Dr Bernie Hogan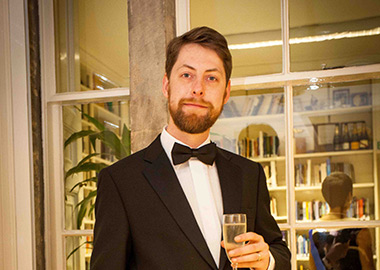 Bernie Hogan has interests in social networks, human-computer interaction, methodology (eg reliable capture of online networks, and networks in interviews), social informatics, quantitative analysis, everyday life, and social accessibility.
Profile
Bernie's research interests lie at the intersection of social networks and media convergence. That is, what medium do people use with their ties, and when? With new media, individuals simultaneously have more convenience but also more complexity, expenses and social pressure to adopt. Some individuals thrive in this new media ecology, while others feel it has isolated them. Within this framework, Bernie examines the eroding home-work boundary, the digital self, and the shift from public spaces to cyberpublics.
He is also working on a number of methodological issues, including reliable capture of online networks, efficient strategies for capturing networks in interviews, social science software development and the application of audit studies to online housing and job markets.
Bernie Hogan completed his BA(hons) at the Memorial University of Newfoundland in Canada, where he received the University Medal in Sociology. Since then he has been working on Internet use and social networks at the University of Toronto under social network analysis pioneer Barry Wellman.
Bernie received his Masters of Arts at Toronto in 2003, and defended his PhD Dissertation in the Fall of 2008. His dissertation examines how the use of ICTs alters the way people maintain their relationships in everyday life. In 2005 he was an intern at Microsoft's Community Technologies Lab, working with Danyel Fisher on new models for email management.
Research interests
social networks, human-computer interaction, methodology, social informatics, quantitative analysis, everyday life, social accessibility
Positions held at the OII
Research Fellow, October 2008 -
Back to: profile top | page top
Research
Current projects
September 2012 -

CollegeConnect is webpage that visualizes social networks automatically from Facebook and puts them to work for the user. The target market of the application is prospective college students as well as those just entering college or university.

Wikipedia's Networks and Geographies: Representation and Power in Peer-Produced Content

November 2010 -

This project brings together OII research fellows and doctoral students to shed light on the incorporation of new users and information into the Wikipedia community.

Me, My Spouse and the Internet: Meeting, Dating and Marriage in the Digital Age

January 2008 -

The project uses survey data from Australian and UK couples to look at the significance and impact of the Internet on intimate relationships, including how people use ICTs to meet each other and maintain relationships, and how ICTs affect their behaviour.
Past projects
Back to: research top | page top
Publications
Articles
Brooks, B., Hogan, B., Ellison, N., Lampec, C., and Vitak, J. (2014) Assessing structural correlates to social capital in Facebook ego networks. Social Networks 38: 1-15.
Graham, M., Hogan, B., Straumann, R.K., and Medhat, A. (2014) Uneven Geographies of User-Generated Information: Patterns of Increasing Informational Poverty. Annals of the Association of American Geographers.
Parag, Y., Hamilton, J., White, V., and Hogan, B. (2013) Network approach for local governance of energy: the case of Oxfordshire. Energy Policy.
Kan, A. Chan, J., Hayes, C., Hogan, B., Bailey, J., and Leckie, C. (2013) A Time Decoupling Approach for Studying Forum Dynamics. World Wide Web Journal.
Hogan, B. (2013) Comment on Elena Pavan/1: Considering Platforms as Actors. Sociologica 3. doi: 10.2383/75767
Hogan, B. and Berry, B. (2011) Racial and Ethnic Biases in Rental Housing: An Audit Study of Online Apartment Listings. City & Community 10 (4) 351-372.
Brooks, B., Welser, H.T., Hogan, B. and Titsworth, S. (2011) Socioeconomic Status Updates: College Students, Family SES, and Emergent Social Capital in Facebook Networks. Information, Communication & Society 14 (4) 529-549.
Hogan, B. (2010) Portable Communities: The Social Dynamics of Online and Mobile Connectedness, by Mary Chayko (Book Review). City & Community 9 (1) 134-136.
Hogan, B. (2010) The Presentation of Self in the Age of Social Media: Distinguishing Performances and Exhibitions Online. Bulletin of Science, Technology & Society 30 (6) 377-386.
Hogan, B. and Quan-Haase, A. (2010) Persistence and Change in Social Media. Bulletin of Science, Technology & Society 30(5), 309-315. doi: 10.1177/0270467610380012.
Hogan, B. (2010) Pinwheel layout to highlight community structure. Visualization Symposium. Journal of Social Structure.
Carrasco, J.A., Hogan, B., Wellman, B. and Miller, E.J. (2008) Agency in social activity interactions: The role of social networks in time and space. Tijdschrift voor Economische en Sociale Geografie 99 (5) 562-583.
Carrasco, J.A., Hogan, B., Wellman, B. and Miller, E. (2008) Collecting social network data to study social activity-travel behaviour: an egocentered approach. Environment and Planning B: Planning and Design 35 (6) 961-980.
Hogan, B. (2007) Using Information Networks to Understand Social Behavior. IEEE Data Engineering Bulletin 30 (2) 6-14.
Hogan, B., Carrasco, J.A. and Wellman, B. (2007) Visualizing Personal Networks: Working with Participant-Aided Sociograms. Field Methods 19 (2) 116-144.
Hogan, B. (2003) Book Review: Leonardo's Laptop. Information, Communication & Society 6 (2) 278-281.
Chapters
Allagui, I., Graham, M., and Hogan, B. (2014) Wikipedia Arabe et la Construction Collective du Savoir. In L.Barbe and L. Merzeau (eds) Wikipedia, objet scientifique non identifie. Paris: Presses Universitaries du Paris Ouest.
Hogan, B., and Melville, J. (2013) Social Media. In: International Encyclopedia of Social and Behavioral Sciences.
Hogan, B. (2012) Facebook and the Rise of the Real Name Web. In J. Harley, A. Bruns, and J. Burgess (eds) Blackwell Companion to Social Media Dynamics.
Hogan, B. and Smith, M.A. (2011) Facebook. In: G.Barnett (ed.) Encyclopedia of Social Networks. Thousand Oaks, CA: Sage Publications, pp. 283-286.
Hogan, B. and Wellman, B. (2011) The Immanent Internet Redux. In: P.H.Cheong, P.Fischer-Nielsen, S.Gelfgren and C.Ess (eds) Digital Religion, Social Media and Culture: Perspectives, Practices and Futures. Bern, Switzerland: Peter Lang.
Hogan, B. (2010) Analyzing Facebook Networks. In: D.Hansen, M.Smith and B.Shneiderman (eds) Analyzing Social Media Networks with NodeXL. Morgan Kaufman: New York, NY.
Hogan, B. (2008) Analyzing Social Networks via the Internet. In: N.Fielding, R.Lee and G.Blank (eds) The Handbook of Online Research Methods. Thousand Oaks, CA: Sage.
Veenhof, B., Wellman, B., Quell, C. and Hogan, B. (2008) Isolation, Cohesion or Transformation? How Canadians' Use of the Internet is Shaping Society. Connectedness Series 16. Statistics Canada.
Wellman, B., Hogan, B., Berg, K., Boase, J., Carrasco, J.A., Côté, R., Kayahara, J., Kennedy, T. and Tran, P. (2006) Connected Lives: The Project. In: P.Purcell (ed.) Networked Neighborhoods. Berlin: Springer.
Wellman, B. and Hogan, B. (2004) The Internet in Everyday Life. In: W.S.Bainbridge (ed.) The Berkshire Encyclopedia of Human Computer Interaction. Great Barrington, MA: Berkshire Publishing, pp. 389-397.
Wellman, B. and Hogan, B. (2004) The Immanent Internet. In: J.R.McKay (ed.) Netting Citizens. Edinburgh: St Andrew's Press, pp. 54-80.
Conference papers
Hogan, B. (2010) Face Validity? A Commentary on Walther et al.'s "The Role of Friends' Appearance and Behavior on Evaluations of Individuals on Facebook: Are We Known by the Company We Keep?". Proceedings of the International Communication Association's Virtual Conference.
Fisher, D., Brush, A.J., Hogan, B., Smith, M. and Jacobs, A. (2007) Using Social Metadata in Email Triage: Lessons from the Field. Proceedings of the 2007 Human Computer Interaction International Conference, Beijing, 22-27 July 2007.
Reports
Back to: publications top | page top
Teaching
Courses taught at the OII
DPhil students supervised at the OII
Current students
The Role of the Internet in the Russian Election Protest Movement

Personal Networks and Care Plan Outcomes: Considering Structural Vulnerability

I came, I saw, I shared: Self-presentational Strategies and Identity in the Adoption of Social Network Sites
Back to: teaching top | page top