Published:

26 September 2019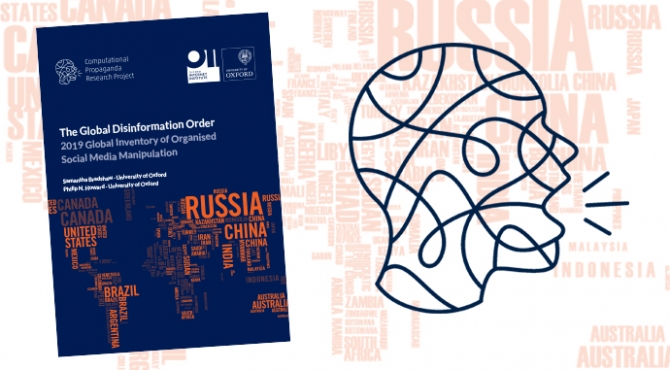 The new report 'The Global Disinformation Order: 2019 Global Inventory of Organised Social Media Manipulation', co-authored by Professor Philip Howard, Director of the Oxford Internet Institute (OII), and Samantha Bradshaw, Researcher at the OII, is the only regular inventory of its kind to look at the use of algorithms, automation and big data to shape public life.
The report explores the tools, capacities, strategies and resources employed by global 'cyber troops', typically government agencies and political parties, to influence public opinion in 70 countries.
Key findings include:
Organized social media manipulation has more than doubled since 2017, with 70 countries using computational propaganda to manipulate public opinion.
In 45 democracies, politicians and political parties have used computational propaganda tools by amassing fake followers or spreading manipulated media to garner voter support.
In 26 authoritarian states, government entities have used computational propaganda as a tool of information control to suppress public opinion and press freedom, discredit criticism and oppositional voices, and drown out political dissent.
Foreign influence operations, primarily over Facebook and Twitter, have been attributed to cyber troop activities in seven countries: China, India, Iran, Pakistan, Russia, Saudi Arabia and Venezuela.
China has now emerged as a major player in the global disinformation order, using social media platforms to target international audiences with disinformation.
25 countries are working with private companies or strategic communications firms offering a computational propaganda as a service.
Facebook remains the platform of choice for social media manipulation, with evidence of formally organised campaigns taking place in 56 countries.
Professor Philip Howard, Director of the Oxford Internet Institute, University of Oxford said:
"The manipulation of public opinion over social media remains a critical threat to democracy, as computational propaganda becomes a pervasive part of everyday life. Government agencies and political parties around the world are using social media to spread disinformation and other forms of manipulated media. Although propaganda has always been a part of politics, the wide-ranging scope of these campaigns raises critical concerns for modern democracy."
Samantha Bradshaw, Lead author of the report and Researcher, Oxford Internet Institute, University of Oxford said:
"The affordances of social networking technologies – algorithms, automation and big data – vastly changes the scale, scope, and precision of how information is transmitted in the digital age. Although social media was once heralded as a force for freedom and democracy, it has increasingly come under scrutiny for its role in amplifying disinformation, inciting violence, and lowering trust in the media and democratic institutions."
The report explores the tools and techniques of computational propaganda, including the use of fake accounts – bots, humans, cyborgs and hacked accounts – to spread disinformation. The report finds:
87% of countries used human accounts
80% of countries used bot accounts
11% of countries used cyborg accounts
7% of countries used hacked or stolen accounts
In addition, Oxford researchers examine how cyber troops use different communication strategies to manipulate public opinion, such as creating disinformation, mass-reporting content or accounts, and employing abusive strategies such as trolling, doxing, or harassment. The report finds:
52 countries used disinformation and media manipulation to mislead users
47 countries used state sponsored trolls to attack political opponents or activists in 2019, up from 27 countries in 2018
Professor Howard adds;
"A strong democracy requires access to high quality information and an ability for citizens to come together to debate, discuss, deliberate, empathise and make concessions. Although there are an increasing number of government actors turning to social media to influence public attitudes and disrupt elections, we remain optimistic that social media can be a force for good creating a space for public deliberation and democracy to flourish."
The 2019 report draws upon a four-step methodology employed by Oxford researchers to identify evidence of globally organised manipulation campaigns. This includes a systematic content analysis of news articles on cyber troop activity, a secondary literature review of public archives and scientific reports, generating country specific case studies and expert consultations. The research work was carried out by Oxford researchers between 2018-2019.
For more information or to request an interview, please email press@oii.ox.ac.uk.
Notes for editors
Computational Propaganda project research studies are published at DemTech.