Author:
Posted:

18 October 2018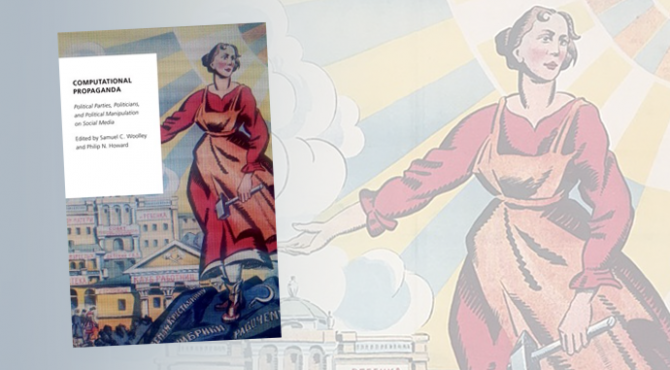 We're very pleased to announce the publication of the Computational Propaganda project's first book, Computational Propaganda: Political Parties, Politicians, and Political Manipulation on Social Media, edited by Sam Woolley and Phil Howard.
The book, which has been published by Oxford University Press' Digital Politics series (edited by Andrew Chadwick), is based upon a series of country case studies published by the project in 2017, and features an expanded theoretical introduction and conclusion. The book includes:
Introduction: Computational Propaganda Worldwide
Chapter 1 – Russia: The Origins of Digital Misinformation (Sergey Sanovich)
Chapter 2 – Ukraine: External Threats and Internal Challenges (Mariia Zhdanova & Dariya Orlova)
Chapter 3 – Canada: Building Bot Typologies (Fenwick McKelvey & Elizabeth Dubois)
Chapter 4 – Poland: Unpacking the Ecosystem of Social Media Manipulation (Robert Gorwa)
Chapter 5 – Taiwan: Digital Democracy Meets Automated Autocracy (Nick Monaco)
Chapter 6 – Brazil: Political Bot Intervention During Pivotal Events (Dan Arnaudo)
Chapter 7 – Germany: A Cautionary Tale (Lisa-Maria Neudert)
Chapter 8 – United States: Manufacturing Consensus Online (Doug Guilbeault and Sam Woolley)
Chapter 9 – China: An Alternative Model of a Widespread Practice (Gillian Bolsover)
Conclusion: Political Parties, Politicians, and Computational Propaganda
"This book makes a major contribution to our understanding of how various digital methods are being harnessed to pollute the information ecosystem, divide societies, and manipulate public opinion. This systematic and sober multi-country study pushes for evidence-based responses to avoid the moral panic that in many societies leads to hasty and ill-conceived regulation."—Cherian George, author of Hate Spin 
"This timely volume brings together a unique set of case studies from around the world revealing the current state of computational propaganda."—Klaus Bruhn Jensen, Professor of Media, Cognition, and Communication, University of Copenhagen
"What you thought you knew about the political process is wrong. You have been misinformed. Read this excellent book and find out why."—Zizi Papacharissi, author of Affective Publics
Find the book at a local retailer or order directly from Oxford UP.