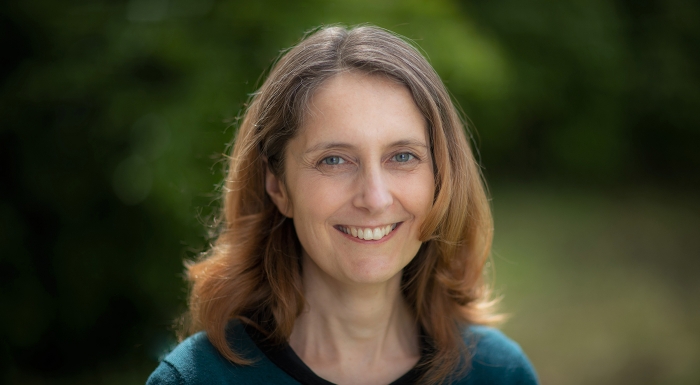 Rebecca Eynon's research focuses on learning and the Internet, and the links between digital and social exclusion.
Professor Rebecca Eynon
Professor of Education, the Internet and Society
Profile
Rebecca Eynon holds a joint academic post between the Oxford Internet Institute (OII) and the Department of Education at the University of Oxford. Her research explores the relationships between education, the Internet and inequalities.
Her work has been supported by a range of funders including the British Academy, the Economic and Social Research Council, the European Commission and Google. She was co-editor of Learning, Media and Technology from 2011-2021. She is currently on the editorial board for Learning, Media and Technology and Information and Learning Sciences.
Rebecca teaches on the MSc Social Science of the Internet at the OII and on the MSc Education (Digital and Social Change) at the Department of Education. At both departments, she supervises DPhil students interested in digital education and social justice.
Selected Publications
Eynon, R. (2020) Becoming digitally literate: Reinstating an educational lens to digital skills policies for adults. British Educational Research Journal DOI: 10.1002/berj.3686.
Winters, N., Eynon, R., Geniets, A., Robson, J. & Kahn, K. (2020) Can we avoid digital structural violence in future learning systems? Learning, Media and Technology 45(1) 17-30.
Eynon, R.E., Deetjen, U. and Malmberg, L. (2018) Moving on up in the Information Society?,

The Information Society

.

34

(5)

316-327.

Davies, H. and Eynon, R. (2018) Is digital upskilling the next generation our 'pipeline to prosperity'?,

New Media and Society

.

20

(11)

3961-3979

.
Davies, H., Eynon, R.E. and Wilkin, S. (2017) Neoliberal gremlins? How a scheme to help disadvantaged young people thrive online fell short of its ambitions,

Information, Communication and Society

.

20

(6)

860-875

.
Eynon, R. and Geniets, A.(2016) The digital skills paradox: how do digitally excluded youth develop skills to use the internet?",

Learning, Media and Technology

.

41

(3)

463-479.

Eynon, R. (2013) The rise of Big Data: what does it mean for education, technology and media research? Learning, Media and Technology 38 (3) 1-3.
Areas of Interest for Doctoral Supervision
Big data, digital divides, education, inequality, ethics, learning, skills, social justice and youth
Research interests
Sociology of education, digital education, everyday life and learning with the Internet, digital and social exclusion, the political economy of EdTech, the role of computational social science in education research
Positions held at the OII
Professor of Education, the Internet and Society, October 2020 –

Senior Research Fellow and Associate Professor, May 2014 – October 2020
Senior Research Fellow, January – May 2014
Research Fellow, January 2005 – December 2013
Students supervised at the OII
Current students
Past students
Dr Ulrike Deetjen
Dr Isis Hjorth
Dr Paige Mustain
Dr Daniel Villar-Onrubia
Dr Bianca Reisdorf
Teaching
This course encourages students to develop a critical stance to research practices. Alongside conceptual and theoretical discussions, students will obtain hand­s-on practice gathering qualitative data, particularly using digital methods.

This course provides students with the opportunity to engage with the methodological, ethical and philosophical underpinnings of quantitative and qualitative social science research practices.

ICTs have the potential to transform how, what and where people learn, and challenges existing ideas of what the purpose and nature of formal education is and what the future of education should be.
Videos
Recorded: 8 November 2013

Duration: 00:17:52

Rebecca Eynon summarises key areas of her research on learning, education, and the Internet.
News
13 April 2012

Rebecca Eynon and Anne Geniets discuss the topical issue of the UK's digital inclusion strategy, discussed at last week's OII workshop on low and discontinued Internet use by young people in Britain.
Integrity Statement
In the past five years my work has been financially supported by UK taxpayers, the UK's Economic and Social Research Council, the John Fell Fund, the Templeton World Charity Foundation, Google, the Australian Research Council, the University of Wollongong, the European Commission and Ferrero. As part of my communication and policy outreach, I have served in a paid advisory capacity to the Good Things Foundation and the Robertson Foundation and in an unpaid capacity to the RSA and the Digital Access for All Taskforce. I am currently an education advisory panel member for the Centre for Data Ethics and Innovation; a steering committee member of the Digital Transformation National Research Programme, Swiss National Science Foundation;  a jury member for the Digital Humanism programme, Vienna Science and Technology Fund WWTF; and a member of the Educational and Public Engagement Advisory Committee for the Insight Centre for Data Analytics, Ireland. I conduct my research in line with the University's academic integrity code of practice.