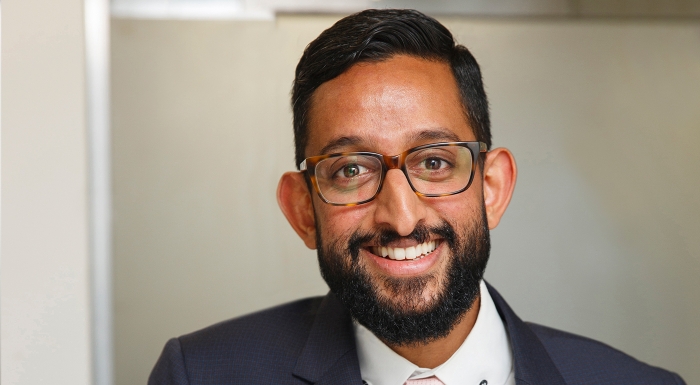 The Oxford Internet Institute (OII), part of the University of Oxford, has appointed leading solicitor Ravi Naik, as a Visiting Policy Fellow.
Ravi is a widely renowned human rights solicitor, with a successful career in private practice, including working on the Cambridge Analytica case. Most recently he co-founded AWO, a new data rights agency dedicated to the development, advancement and enforcement of data rights online.
He has over 7 years' experience in private practice, specialising in data rights, developing technologies and their constitutional impact, representing international clients on agenda setting cases. Prior to co-founding AWO earlier this year, Ravi was a human rights lawyer and partner at Irvine Thanvi Natas (ITN) Solicitors. Ravi was awarded the Law Society's prestigious Human Rights Lawyer of the Year award, 2018 – 2019, for his work on data rights and his contribution to human rights more broadly.
While at OII, Ravi will work primarily with Professor Philip Howard to look at the regulation of disinformation and how to evolve the current data protection regime to better protect people against the misuse of personal information online.
Professor Philip Howard, Director, Oxford Internet Institute, said:
"We are delighted to welcome Ravi to Oxford. His legal knowledge and wealth of experience in private practice advising on data rights in the digital age will be a real benefit to our researchers working on disinformation."
Ravi Naik, co-founder of legal firm AWO, said:
"I'm honoured to become a Visiting Policy Fellow at the Oxford Internet Institute, an organisation with which I have so many interests in common. I look forward to working with Professor Howard and the team to consider how we can curb the spread of disinformation online".
Find out more about the Oxford Internet Institute Visiting Policy Fellowship programme.
Notes for editors:
About the Visiting Policy Fellowship Programme
Members of the Programme are: Prof. Hind Benbya, Montpellier Business School, Jim Bligh, Director of Corporate Affairs, UK & Ireland at Tata Consultancy Services, Lisa Felton, Head of Data, Services and Consumer Regulation, Vodafone Group, former European Commissioner Sir Julian King, and Conrad Young, Chief Digital Officer at Deloitte. Find out more about the Visiting Policy Fellowship Programme here
 About the OII
The Oxford Internet Institute (OII) is a multidisciplinary research and teaching department of the University of Oxford, dedicated to the social science of the Internet. Drawing from many different disciplines, the OII works to understand how individual and collective behaviour online shapes our social, economic and political world. Since its founding in 2001, research from the OII has had a significant impact on policy debate, formulation and implementation around the globe, as well as a secondary impact on people's wellbeing, safety and understanding. Drawing on many different disciplines, the OII takes a combined approach to tackling society's big questions, with the aim of positively shaping the development of the digital world for the public good. https://www.oii.ox.ac.uk/