Author:
Posted:

17 April 2015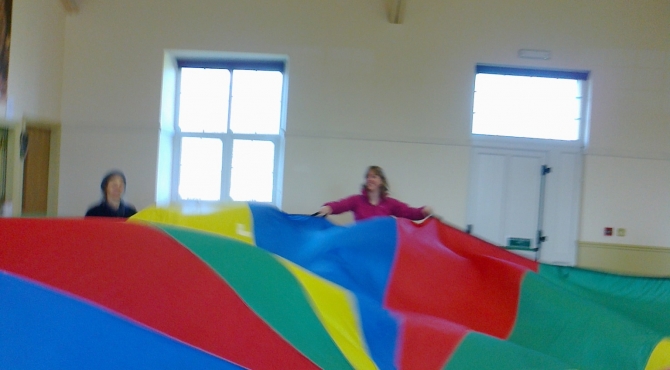 Last month we had a very productive week in North-Wales, talking to a variety of people who all struggled with slow and unreliable Internet access, both at home and at work. Of course the lack of fast Internet impacts differently on different people, but the main message is that it hinders people in achieving the things they need to accomplish on a daily basis. We found that a slow and unreliable connection can have serious implications not only financially, but also for health, social life, and family connections.
While we had a few interviewees lined up before we headed to Gwynedd, we still needed to find other people willing to talk to us. We used the snowball method, by which researchers find new participants through referrals from people they have already spoken to. But we also joined a baby and toddler singing group, where we met the parents and found some more willing respondents. We ended up humming along to Welsh children's songs and waving a massive parachute. The things we do for our research!
During our fieldwork in N-Wales, the UK chancellor George Osborne came out with his Budget 2015 statement in which he pledged that Internet speeds of 100Mbps "should" be available to "nearly all homes" in the UK. In addition, the government's digital communications infrastructure strategy has outlined an idea that will give customers the "right" to a broadband connection of at least 5Mbps in their homes at an affordable price. In reaction to this promise we wrote an article for The Conversation asking whether Osborne's broadband promises will indeed bring about much needed change [spoiler: 5 Mbps is too little, too late].
This week the transcripts of our Welsh interviews have come back. This means that we can start analysing our data, compare it to our English data, and write up the results for academic publications. There are still some expert interviews to be conducted with FTTH advocates, representatives from local broadband providers, county councils, Ofcom, and other stakeholders to inform us on public policy and governmental interventions, but the bulk of the data has been collected. Newspaper and magazine articles, conference papers, and journal articles resulting from our research will always be uploaded to our project website, so do check regularly for the latest updates on our study!