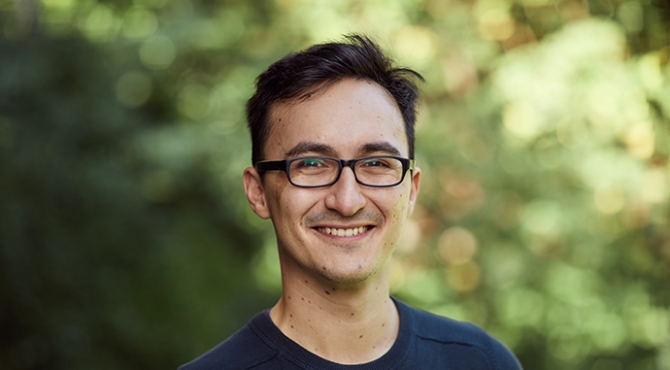 Dr Chico Camargo is an interdisciplinary researcher who develops and applies computational tools to study complex systems, collective human behaviour, public opinion dynamics and culture change.
Chico Camargo
Postdoctoral Researcher in Data Science
Profile
Dr Chico Camargo is a Postdoctoral Researcher in Data Science at the OII. He is an interdisciplinary researcher whose work consists in developing and applying new computational and quantitative methods for the social sciences, currently focusing on the dynamics of public opinion, political volatility, agenda setting and human mobility, and on the analysis of large-scale datasets. He is also very interested in using these new methods to investigate how the media environments we inhabit shape the beliefs we hold, the information we spread and the stories we tell.
Chico graduated with a BSc from the University of São Paulo, as part of the Molecular Sciences Programme, and later worked in mathematical modelling in biology at the Wolfson Centre for Mathematical Biology, and at the Department of Zoology, University of Oxford. He then moved to a PhD (DPhil) in systems biology, also at Oxford, as a Clarendon Scholar in Brasenose College. In his PhD research, he used tools from complex systems and machine learning to investigate the physical principles that rule biological evolution.
You might also find Chico writing for Huffpost Brasil or for The Conversation, or making videos at BláBláLogia, an award-winning Portuguese-speaking science channel on YouTube, which is also a part of Science Vlogs Brasil.
Position held at OII:
Postdoctoral Researcher in Data Science, January 2018 –
Research Assistant in Complex Networks, May 2017 – 2018
Research Interests:
computational social science, social data science, applications of machine learning, natural language processing (NLP), public opinion dynamics, complex systems,  collective behaviour, cultural evolution, digital humanities, algorithmic information theory
Research
Current projects
Participants: Dr Scott Hale, Fabian Flöck, Przemyslaw Grabowicz, David Jurgens, Chico Camargo

This project seeks to measure and explain what societal issues are given the highest priorities by media organizations, policy makers, and the general public in different nations and languages of the European Union.
Past projects
Participants: Dr Kathryn Eccles, Dr Chico Camargo

This project seeks to use social media data to enhance our understanding of 'playful' behaviour across Oxford's gardens, libraries, and museums, looking for new types of visitor engagement.

Participants: Professor Helen Margetts, Dr Scott Hale, Dr Chico Camargo, Dr Myrto Pantazi, Professor Peter John

This project seeks to quantify trends and changes in the volatility of public opinion before and after widespread use of social media, and to study how social information can drive public opinion.

Participants: Dr Scott A. Hale, Dr Jonathan Bright, Dr Graham McNeill, Chico Camargo

This project seeks to utilise newly available data to help urban policy makers improve transport infrastructure to cope with growing and increasingly mobile populations.
Videos
Recorded: 26 July 2018

Duration: 00:42:30

This presentation, hosted by the Alan Turing Institute focuses on using crowd-sourced data, such as OpenStreetMap and Waze, to improve traffic models and better understand the factors contributing to traffic jams and other traffic issues.
Integrity Statement
My work has been financially supported by the Volkswagen foundation, the Oxford IT Innovation Challenges Panel, and by Lloyd's Register Foundation and the Engineering and Physical Sciences Research Council (EPSRC) via the Alan Turing Institute.