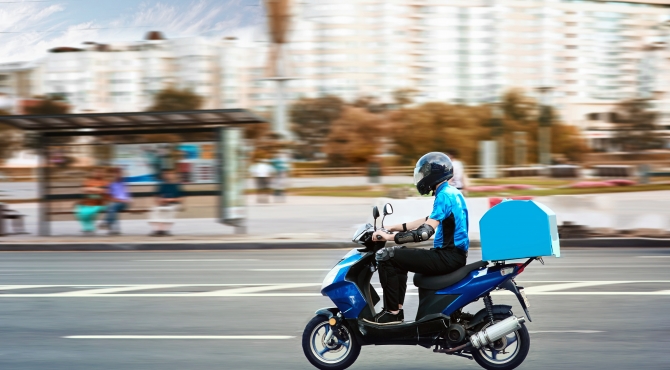 A research report released today shows that those working in South Africa's gig economy – for platforms like Uber and Mr D – are falling through the cracks of government and private sector responses to Covid-19. Researchers on the Fairwork project, a collaboration between the Universities of Cape Town, Manchester, and Oxford, have highlighted how these workers are unable to access the same government assistance as other workers.
The report shows that during lockdown most gig workers have lost their income entirely. Gig workers surveyed reported that their immediate concern was just getting food to eat. While the government has moved quickly to make income available to other workers who have lost their livelihood, gig workers are classified as independent contractors, meaning they are ineligible for sick pay, UIF, and other forms of social security. Despite this classification, gig workers are also unlikely to meet the requirements to access government support for small businesses.
The report also looks at the steps platforms have taken to protect their workers from both illness and destitution. Some South African platforms have taken positive action. For example, SweepSouth has set up a fund to which clients can contribute, to provide some financial assistance to domestic workers during the lockdown. M4Jam has rolled out a micro-training initiative that provides payments to its "jobbers" for completion of up to 48 short lessons.
However, Fairwork's researchers also find that platforms can do much more to help. The report's recommendations include reduced commissions, loan deferrals, physical protection, healthcare assistance, sick pay, improved communication, and engagement with workers and their representatives.
Dr Kelle Howson, Postdoctoral Researcher on the Fairwork project at Oxford Internet Institute, said:
"The Covid-19 crisis has exposed the tiered system of labour rights that has quietly developed, with some workers eligible for benefits and protections, and others experiencing greater precarity. Now the full extent of that precarity is being realised. This shows the urgency of ensuring that all workers have the same basic rights."
Professor Jean-Paul Van Belle of the University of Cape Town said:
"While platforms have long marketed themselves as facilitators of supplementary income streams, the Covid-19 crisis has exposed the complete dependency of most of South Africa's gig workers on their platforms as the basis for their livelihood."
"Government and platforms must take action now to cushion the blow to gig workers from the current crisis.  But going forwards we must ensure that all workers in South Africa have the same basic rights.  Platforms have the responsibility and the capability to do much more to protect the hard-working people they rely on.  Government must close the legal loophole that has allowed gig workers to be without a safety net."
Notes for editors
About Fairwork
Fairwork draws on the expertise and experience of staff at the University of Cape Town, the University of the Western Cape, the University of Manchester, the University of Oxford, the International Institute of Information Technology Bangalore, and the Technical University of Berlin. Project staff work to translate our principles into measurable thresholds, conduct rigorous research to evaluate platforms against those thresholds, and publish our results in a transparent manner.