Together with colleagues from the University of Birmingham (Human-Computer Interaction Research Centre, Computer Science Department) and the University of Sheffield (Natural Language Processing Research Group, Computer Science Department) we have developed an application called Privacy Trends that queries Twitter, looking for stories written about a particular privacy risk or violation. It summarises the news articles it finds (using a natural language processing algorithm we have developed) so that users can get a quick overview of the issue. The aim of Privacy Trends is to engage Internet users with ongoing privacy problems that may be relevant to them, and to support their understanding of contemporary privacy issues more generally.
At the moment we are in the evaluation phase of this Google funded project and it is pretty full on! Today was the first day of the evaluation, with me and Principle Investigator Dr Mina Vasalou each scheduled to interview 10 participants. Although a couple of participants cancelled at the very last minute (this will always happen), we both still spent 8 hours with the remaining respondents. These 16 participants will be using the application daily in the coming two weeks and are interviewed on three consecutive Mondays.
During this pre-study interview we first explained the functionality of the Privacy Trends application, made sure that the participants have the right browsers installed on their laptops, and gave an overview of the Cookie setup for the study (which settings to tick, what information gets collected by us, and why). After these more practical issues, we needed to get an idea of their current technology use (e.g. What kind of mobile phone do you have? What do you use this phone for? Which Google products do you use? What do you use social media for? Who do you share information with? Have there been instances of misuse of the information you shared?). Their answers were sketched out in several models (see photo). The interviews were of course also recorded and will be fully transcribed.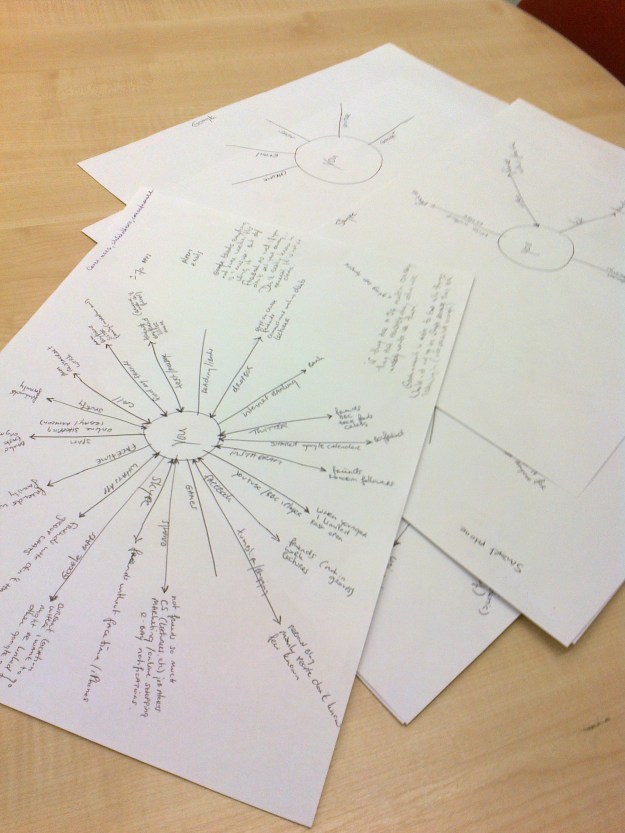 Besides reading a daily summary of news items and full texts of articles, the users are asked to annotate the news items with predefined labels and add stories to the site through which they can voice their own perspectives and reflections. Their use of the application is logged and will be used in the upcoming interviews as a prompt to recall and discuss their interaction with Privacy Trends.
Conducting 8 one-hour interviews on a single day is rather hardcore, but also gets you into a certain flow. It is interesting to see the similarities and the differences between respondent's answers and to notice emerging themes. We are curious to see what will happen in the coming two weeks and hope the participants will truly engage with the application. Only two more marathon interview sessions to go…