Within the Google funded project 'Privacy Trends' a tool was developed that collects and aggregates online reports from social media platforms on the topic of privacy. The reports are summarized, visualized, and presented to everyday Internet users as a way to sensitize them on ongoing privacy violations. The design of this tool was informed by users' needs; users were involved in the early design process, which resulted in a set of 'requirements' and design concepts. The project, led by Dr Mina Vasalou from the London Knowledge Lab, has now resulted in a first publication for the Journal of the American Society for Information Science and Technology (JASIST) to be published this year.
Screen shot of the privacy awareness application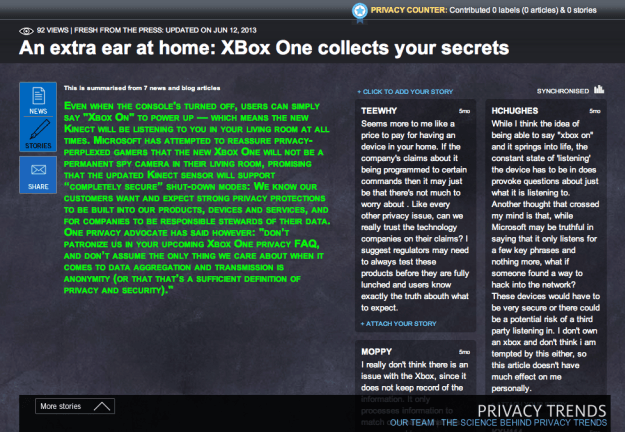 Understanding Engagement With The Privacy Domain Through Design Research
Asimina Vasalou, Anne-Marie Oostveen, Chris Bowers, and Russell Beale
Abstract: The article reports findings from participatory design research aimed at uncovering how technological interventions can engage users in the domain of privacy. Our work was undertaken in the context of a new design concept "Privacy Trends" whose aspiration is to foster technology users' digital literacy regarding ongoing privacy risks and elucidate how such risks fit within existing social, organizational and political systems, leading to a longer term privacy concern. Our study reveals two challenges for privacy intervention design: the need to develop technology users' intrinsic motivations with the privacy domain and the importance of framing the concept of privacy within users' interests. Setting our study within a design context enables us to identify four design opportunities for fostering engagement with the privacy domain through technology design.
Vasalou, A., A. Oostveen, C. Bowers and R. Beale (2014) Understanding Engagement With The Privacy Domain Through Design Research. Journal of the Association of Information Science and Technology (JASIST)