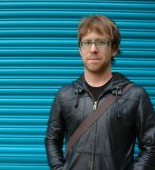 Robbie Fordyce is a doctoral candidate at the University of Melbourne in the School of Culture and Communication. His research is funded by scholarships under the Institute for a Broadband-Enabled Society and the Australian Postgraduate Award. He discusses XX.
When I attended the Oxford Internet Institute's Summer Doctoral Programme earlier this year, one of my co-scholars (I forget who) noted that "It's funny how many of the people here from Australia are not actually from Australia at all." It's true. I myself, a New Zealander, was one of six representatives from the antipodean Universities of Australia. I was joined by Cesar Albarran-Torres from Mexico, Lucas Gaspard from Britain, Ana Vimieiro from Brazil, and Barbara Gligorijevic – Kim Osman was the sole Australian national in attendance. This year was a particularly multi-cultural experience; previous years have seen greater representation from Australians, but nonetheless, graduate study in Australia is extremely appealing to those overseas, and the heavy investment in Australia's internet provides excellent research opportunities.
Australia's 'National Broadband Network' (NBN) is an initiative by the previous Labor government to install Fibre-to-the-Premises internet, Australia-wide. Look on a map – Australia is huge. It's not only huge, the population density throughout its centre is extremely low. Nearly 90% of the population of Australia lives in coastal cities, meaning that the replacement system has to include extensive satellite coverage as well for areas where cabling is infeasible.
Australia's existing copper-based infrastructure is bordering on falling apart, and the process of replacement is highly politicised between the main parties of Labor (centre-left) and the Liberals (centre-right). The Liberals have contested Labor's strategy as too costly and also as having unclear outcomes, and thus are opting for reduced scope for broadband cabling. This has meant that the roll-out process has been highly asymmetrical. Some regions already have full FttP access, others are part-way through, while a very large number of areas will not receive cabling under the current plan. Recent document releases have suggested that both parties overestimated their proposal costs by something on the order of AUD$10-20 billion.
This has meant that the unequal distribution of quality internet access has already had a mild influence on the population geographies, with some suggestions that rather than opening up broadband tier internet access across the country, it has simply reinforced patterns of gentrification within certain suburbs. Extensive research on exactly these issues has already been conducted. Nansen et al. [2] identified social gaps in the knowledge about what, exactly, broadband is amongst the community; and also noted changes within the home as household devices change their usefulness. Apperley et al. [3] add to the discussion by noting how the 'homeowner opt-in' procedure has had effects on rental properties, with most renters not being able to secure landlord consent for the connection. The material nature of the NBN's roll out is having definitive effects on human geography in the city. The issue has been highly politicised, and is clearly far from concluded.
Cesar, Jenny Kennedy, Jonathon Hutchison, and myself are OII Summer Doctoral Programme Alumni from Australian Universities and we were recently published together in the University of Melbourne's Platform Journal. You can read it here: http://journals.culture-communication.unimelb.edu.au/platform/resources/includes/v5i1/platform_v5i1.pdf
1. The network developer, NBN Co. has a handy map for examining the regional differences in their roll-out: http://www.nbnco.com.au/when-do-i-get-it/rollout-map.html
2. http://accan.org.au/files/Broadbanding_Brunswick.pdf
3. Apperley, Tom, et al. (2011) Broadband in the Burbs: NBN infrastructure, spectrum politics and the digital home. M/C Journal 14.4.