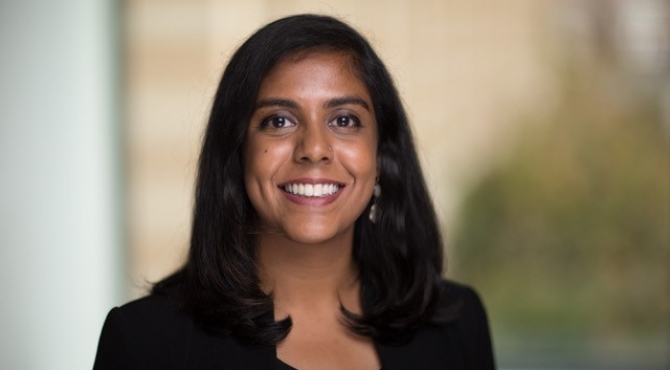 Tulsi Parida was a student in the MSc in Social Science of the Internet in 2017 – 2018.  She was a 1+1 MBA Pershing Square Scholar at Oxford and has just completed her MBA at Saïd Business School. 
What first attracted you to the OII?
I had seen no other institute like it – one with a MSc program solely looking at how internet and society interact. There were professors who were doing research in economic development in the digital era and in education technology, and as these were both areas of interest, I knew I had to apply. I was particularly interested in mobile phone usage in slum communities in India through a gender and political economy lens.
And what were you doing before?
I started my career as a teacher through Teach for America and have since led teams at startups that work with largely marginalized communities to bridge digital divides in literacy education both in the US and in India. I led the community and growth teams at Newsela in New York and Zaya Learning Labs in Mumbai. My work at Zaya is what led me to the OII. I was curious about how the community within which I worked interacts with mobile phones, and the OII gave me the opportunity to research this further.
And what have you been up to since leaving the OII?
I was a 1+1 MBA Pershing Square Scholar at Oxford, so I just completed my MBA at Saïd Business School. I was the Technology Oxford Business Network Co-Chair and organised and facilitated all major tech-sector events at the Saïd. I also sought to bridge my learning about responsible technology at the OII with responsible business at Saïd.
What do you miss most about Oxford?
I definitely miss the people the most at Oxford. Especially at the OII – I had not just inspiring faculty, but incredible classmates from whom I learned so much. I made phenomenal friends with a diverse array of experiences, and I feel extremely fortunate to be a part of the global OII community,
Where do you see yourself in five years?
I'm starting work on this already, but I hope to make major strides in making responsible tech the new normal. We learned a lot about ethical frameworks and best practices at the OII and I hope to translate this work into actual industry practice in the years to come.