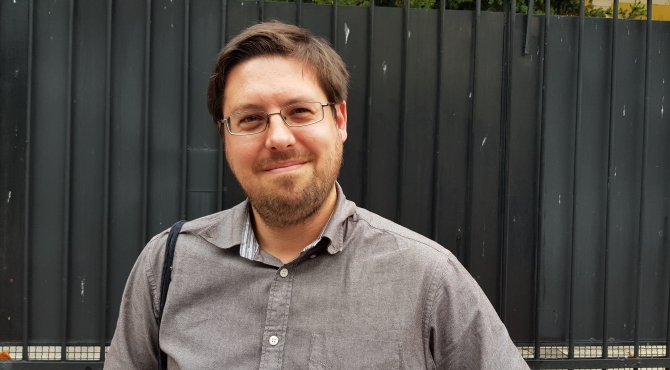 Tim Davies was a student in the MSc in Social Science of the Internet in 2009-2010. Prior to this he had been working in youth policy supporting youth and participation workers to engage with new emerging technologies. He is currently co-Director, Practical Participation.
What first attracted you to the OII? And what were you doing before?
Before I started an MSc at the OII I had been working in youth policy, supporting youth and participation workers to engage with new emerging technologies like social network sites. As my work came to draw more and more on academic research, I realised I needed to improve my understanding of social science and statistics, to be able to read and understand the papers I was coming across. I discovered the newly announced OII MSc in Social Science of the Internet, and it looked like the perfect mix of transferable research skills, and a deep-dive into the way Internet technologies were impacting the world.
What have you been up to since leaving the OII?
Since my time at the OII, I've worked as an independent consultant, a co-ordinator of a global research network on open data in developing countries for the World Wide Web Foundation, and as co-founder and director of a workers co-operative (Open Data Services Co-op) which provides technical infrastructure and support for a number of global data standards and transparency initiatives. I've also been involved as an independent member of civil society in the Internet Governance Forum (IGF) and the Open Government Partnership (OGP). Throughout this work, I've been able to mix a focus on research and practice: drawing on the research skills from the OII, and applying those through real-world projects that combine elements of both policy and technology – as well as continuing to work on papers and publications, most recently on an edited book with IDRC: 'The State of Open Data: Histories and Horizons'.
How did your time at the OII prepare you for this?
The OII was instrumental in helping me to develop a thoroughly interdisciplinary approach. In my work I often have to act as a bridge between engineers, policy makers, practitioners and academics – and skills gained at OII are key to this. Many places talk about equipping you to work across disciplines: the OII actually does it.
What job-seeking advice do you have for our students?
When it comes to job-seeking advice, the most important thing I would say is to look for roles and projects where you can be part of addressing social, global and environmental challenges, not causing them. Look beyond jobs with large technology firms, and seek out the smaller organisations who might need a consultant or team member to help transform the way they engage with the digital world, or who have a balanced and critical approach to the role of the Internet in society. Don't assume the next career step has to be working for someone else too: I found it was possible to put together an interesting career by taking on small research projects, freelance consulting, building a network of collaborators, and eventually co-founding a workers co-operative. It's not the route to the highest pay, or flashiest job title, but it is a route to genuinely interesting work, and real job satisfaction.
Where do you see yourself in five years?
A few years ago I settled in Stroud in Gloucestershire, where I spend an increasing amount of time focussed on local Green politics, and the actions we can take to address the climate crisis. Alongside this, I'm doing more facilitation work to support technology & transparency organisations develop and implement new strategies, responding to changing landscapes of online and offline power. I don't know whether that will take me in the next five years – but I'm certain that many of books added to my shelves during the OII MSc will continue to be key reference materials as I work out!