Author:

Michelle Stork


Posted:

8 March 2019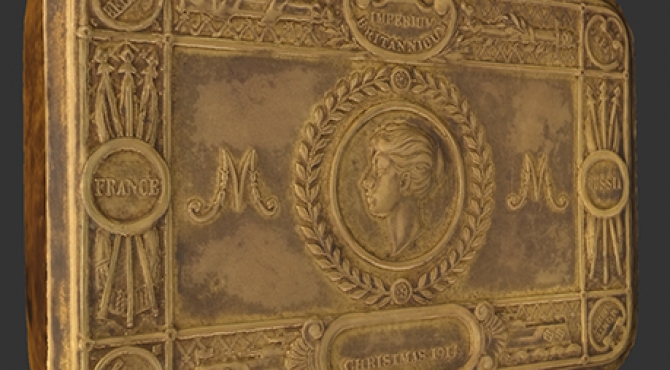 Remembering the First World War in 10 objects is an online exhibition hosted by Cabinet, which has just been released for public viewing. Many of the displayed objects have come to light as a result of the Lest We Forget project. Led by the University of Oxford and the Commonwealth War Graves Commission, and funded by the National Lottery Heritage Fund, Lest We Forget recognises and records stories, objects, and memories from the First World War through digital means. The selected objects from the Lest We Forget online archive represent some of the most commonly surviving relics from the War, including letters, photographs, diaries and other family mementos, and have been preserved as part of digitisation initiatives held across Britain and Europe.
Virtually handling objects from the First World War using 3D models
Lest We Forget recently teamed up with the Cabinet Project at the Oxford Internet Institute to experiment with using 3D imaging to record and share WWI objects brought in by the public.  In September 2018, Jamie Cameron joined the team organising a Collection Day at Holyport College in Maidenhead, and produced virtual 3D models of objects brought in by visitors.
One of these objects was a Princess Mary Gift Fund box (from the collection of David Alton). The embossed brass box originally contained a variety of items such as tobacco and chocolate. It was intended as a Christmas present to those serving at Christmas in 1914 and was paid for by a public fund backed by Princess Mary. The 3D model reveals the embossing through the play of light on the object's surface and gives a sense of the object's age by showing small scratches on its back – a detail usually not visible in photographs.
Another object now available as a 3D model is a leather glove that has shrunken to about 50% of its original size due to exposure to gas. The 3D model can be twisted and turned to reveal the unshrunk button on the palm side of the glove. The manufacturer's name becomes legible when zooming in on the button: 'Dent's Make'. Dent was a manufacturer of high-quality gloves, so this particular one likely belonged to a British Officer.
Objects telling stories
Alongside the fascinating 3D models, Remembering the First World War in 10 objects features numerous examples of embroidered cards, official documents, next of kin memorial plaques, medals and trench art. Objects are linked to the stories alongside which they were collected, revealing the value attributed to them as family memories.
Visit Cabinet
Curious about objects from the First World War? Please visit the Remembering the First World War in 10 objects exhibition on Cabinet to explore all the annotated 2D and 3D objects.
Further Reading