Author:

Oxford Internet Institute


Posted:

30 July 2010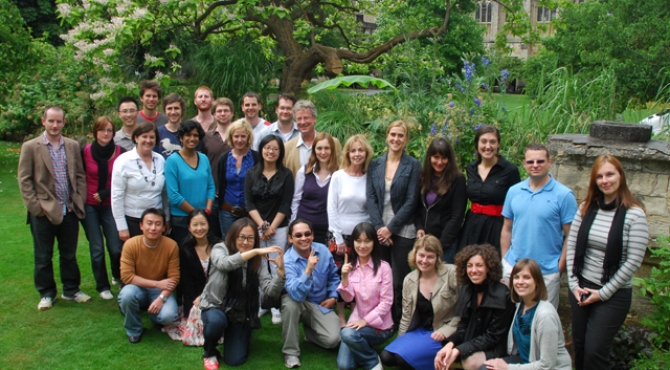 Common themes that emerge whenever students (and tutors) describe the SDP experience are that it is intense, exhausting, challenging, horizon-expanding; that it is incredibly useful .. and fun. The feedback we receive from students helps us ensure that the programme stays bang up to date with current trends and developments in Internet studies, and that the programme continues to deliver on its central purpose: to provide support for doctoral students as they embark on their theses.
Here are some of the lovely things they said about this summer's programme:
Carla Bonina, SDP2010: "Coming to the OII SDP has been an inspiring, motivating and demanding experience. Not only did I meet great colleagues and expand my academic network but I also had fun and met new friends. I fully recommend joining the programme if you are looking for a rewarding and unique experience to enhance your PhD studies."
Koen Leurs, SDP2010: "OII SDP will get you over that hump that probably every PhD student faces."
Kelly Quinn, SDP2010: "The OII SDP was an incredibly valuable opportunity to network with other researchers, develop opportunities for collaboration, and discuss my work–it challenged me and broadened my perspectives in very significant ways."
Carolina Aguerre, SDP2010: "Definitely a great input for my dissertation. Rewarding academic and life experience."
Joe Phua, SDP2010: "I highly recommend the OII summer doctoral program as it is a highly enriching experience academically and socially!"
Valerie Fazel, SDP2010: "The OII-SDP experience is less about the internet as technology, and more about participating with other scholars who study the interesting and dynamic ways people make use of myriad technologies the internet affords."
Rabindra Ratan, SDP2010: "The OII SDP is a unique opportunity for doctoral students to reflect on their research within a diverse and supportive group of peers."
Byul Shin, SDP2010: "I heard a lot about the OII SDP that it is great, from my advisor. And when I came here, OII, I knew that it is more than great. I am sure OII SDP will be one of my best experiences during the PhD."
Jing Zhao, SDP2010: "A lot could happen within two weeks. It's a very interactive environment where students coming from diverse disciplinary background present their works to get feedback, and listen to the leading researchers and practitioners. The memory of those fun times and the peer network will both endure."
Valeries Durieux, SDP2010: "Great experience. I enjoyed every second of it."
Thank you to everyone who shared their thoughts!