Author:

Yonaira M. Rivera


Posted:

2 October 2018
For those of you who have been following my #phdjourney, you know I've been pretty vocal about the challenges it brings. It can be a pretty lonely and daunting process at times, particularly if you embark on a more independent path. That is why this  at Oxford was so special.
During the first two weeks of July, I had the pleasure of experiencing a once-in-a-lifetime opportunity with 29 other magnificent individuals at the 's Summer Doctoral Programme (). The OII SDP is a two-week intensive summer program tailored to doctoral students who are focusing their dissertations on topics related to the Internet and how it continues to shape society. During the program, faculty from the OII provide multiple seminars and workshops related to their research and the current Internet landscape. As a public health practitioner, I can now confidently say I know what TOR, the dark web, STS, and affordances are… and can proudly differentiate between supervised, unsupervised and reinforced machine learning. It was also mad entertaining: I mean, where else do you get to have academic discussions about the importance of memes and their role in society?
While these two weeks are designed to give students the space to learn about a myriad of novel topics related to Internet studies, they also provide the invaluable opportunity to learn and receive feedback about your dissertation from faculty and – most importantly – your peers. This, I would say, is one of the most rewarding aspects of the program. These are people going through similar hurdles and understand the challenges that come with researching an ever-changing media landscape. Being able to listen to and constructively critique each others work in a collaborative environment is something every PhD student should have the opportunity to experience.
Another strength of the program is the diversity among the student body. Not only is it culturally and geographically diverse (literally every continent but the penguins was represented), but it is incredibly interdisciplinary: Communications. Law. Journalism. Science, Tech and Society. Media Studies. Health. Anthropology. Sociology. Critical Theory. And the list goes on. As a PhD candidate in Public Health, this was exactly where I needed to be to gain exposure to new literature and novel research in the realm of social media. It provided me with additional methodological rigor and validation that my innovative methods are in line with how others are approaching social media research in their respective fields.
What made this experience even more rewarding is that I didn't just meet 29 PhD students who happened to be at Oxford at the same time. I met 29 brilliant, vibrant, soulful humans from around the world, all critically thinking about how the Internet continues to shape our lives and society. I learned so much from each and every person there. We are all doing such creative and important research, full of passion and thoughtfulness. The input provided has been invaluable, and couldn't have come at a more perfect time. It re-energized me and let me know I am not crazy for doing the kind of work we do – so thank you! I now have a group of friends and colleagues whom I will not only cherish forever, but also bug whenever I have a question or unconventional idea to research. 
Yet, it wasn't just about the seminars, presentations, and workshops. It was about the laughs whilst exploring Oxford, the 3am courtyard "shut ups", the punting and unexpected diving into the river, the Five Guys evening runs, the morning coffees at The Missing Bean, the "chisme", the Ashmolean memes, the World Cup escapades, the 7:30am "wake-up calls", the late night conversations about life, the lovely hugs, the epistemological bonding… and all the other things I'm missing here, yet we all cherish.
So, to anyone considering applying to the OII SDP, I would encourage it wholeheartedly. Not only will you gain incredible colleagues and networking opportunities, but you will have the unique pleasure of bonding with talented, young professionals with passion for the work they do. And that is invaluable.
And a special thanks to Vicki, Jordan and Solenn for making this experience so special. Your thoughtfulness, attention to detail and planning of fun events made our time there that more incredible.
Lastly, to my OII friends: I am truly honored to have been part of the OII SDP 2018 cohort. You are all brilliant – but, most importantly, BEAUTIFUL – humans. So much joy! I already miss you all dearly. Thanks for making this experience 1,000 times better than I ever imagined! Can't wait until the next conference to see you all again!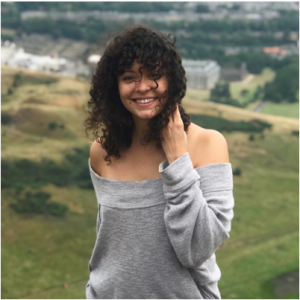 Yona is a native Puerto Rican who splits her time between Puerto Rico and whatever U.S. city she currently calls home. She's now finishing up her PhD in public health and social media research. She loves writing about a little bit of everything and sharing her thoughts on life.