Author:
Posted:

14 December 2015

Tags: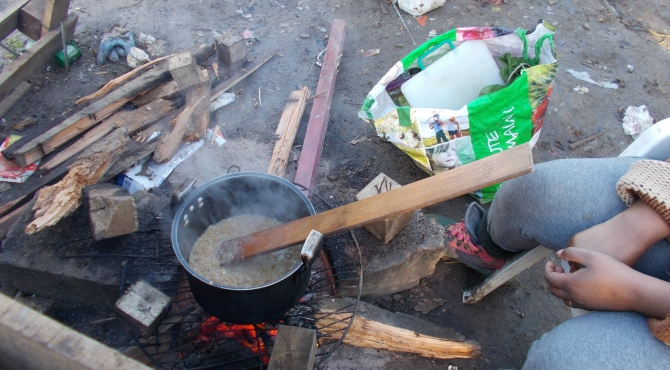 Apologies for this non-academic blog-post, but I wanted to thank all of my amazing colleagues, friends, and neighbours for helping out the refugees in Calais. The crowd-funding page reached over a £1000! People have also donated food and clothes, which we distributed in the camps last week.
On te 7th of December I set off with 4 fellow volunteers to help out in the warehouse and the Jungle camp in the north of France. It is unclear how many refugees live in the Jungle with numbers mentioned between 7000 and 10.000, but they all find themselves in dire circumstances. Thousands of people live in tents or wooden structures. Women with children are placed in caravans when they are available, as they provide better shelter and are safer with a lock on the door.
There is hardly any sanitation in the camp; people wash themselves in the open at tabs with icy cold water that has been tested to have e.coli. People trudge through the mud with inappropriate footwear, and it is impossible for them to get warm in their leaky inadequate tents. There is a lack of food, and an abundance of tear gas and rubber bullets fired into the camp by the French police. This is the daily reality for people who have left their war-torn countries to find safety and a future.
The money you have donated helps to feed hundreds of people, both by distributing individual food parcels and by funding the Calais Kitchens. On this trip we spent £510 on food, which was destined for the Jungle and for a smaller refugee camp an hour's drive from Calais. On the next trip after Christmas the rest of the money will also be used to feed people.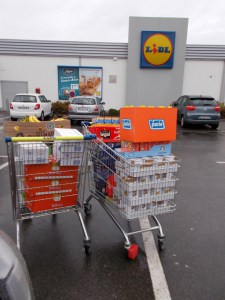 Besides buying and distributing food, we were able to help out in other ways. We have set up large tents, sorted clothes, distributed boots and waterproofs, and helped to prep vegetables for the warm meals served by the Calais Kitchens.
It is no longer possible to donate money via the JustGiving site, but you can still bring tins of food, bags of spices, sugar, tea, wind-up torches, old mobile phones, keyboards or laptops to 34 St. Giles. My next trip over will be at the end of January.
If you would rather donate money, then you can help out the Calais Kitchen directly via this link.
Thank you for all your help!