Author:

Sara Spinks


Posted:

11 February 2021

Tags: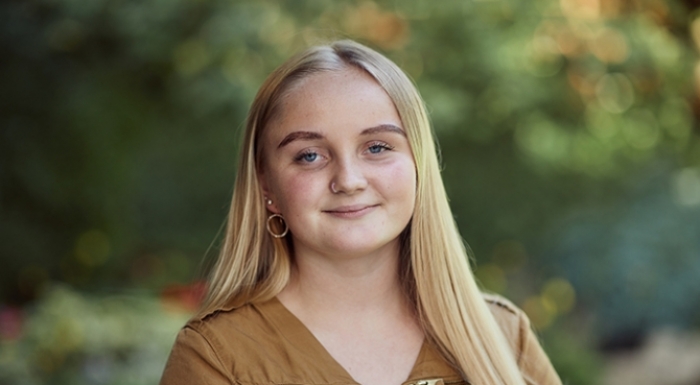 As we celebrate National Apprenticeship Week 2021, we caught up with Oxford Internet Institute apprentice Maisy Gills about her experience as an OII Apprentice and the additional challenges of starting an apprenticeship during a global pandemic.
OII: Why did you decide to apply for an apprenticeship?
Maisy: I wanted to work in a professional environment that was fast-paced and allowed me to use and develop my skillset to benefit myself and my work. I knew that with an apprenticeship I would be learning real life business skills whilst working, which I would not learn from textbooks. I also felt that apprenticeships were a more advanced way of learning, as it requires you to put your knowledge and skills to use, which I felt I lacked in school.
OII: What attracted you to the OII?
Maisy: I was looking within the University for an apprenticeship, and saw the OII job offered so decided to do some research into the department and its work before applying. I looked at the research being carried out at the time and watched a lot of their different videos on YouTube and found the OII's research fascinating so decided to apply.
OII: What did you expect to learn at the OII and has your experience been different to your expectations?
Maisy: I had a clear role profile when I began my two-year apprenticeship at the OII in August 2019, but I wasn't sure exactly how I would learn to do the many elements of my role.  Since I started, I have gained so many new skills and so much confidence which, when I started, I could never have imagined, compared to where I am now.  I was really nervous when I started, as this was my first full-time job, but I have never felt out of my depth and there has always been someone I could go to if I needed help.
OII: What's the best thing about being an apprentice at the OII?
Maisy: One of the best things I have found from my apprenticeship, is that I have always been treated equally and never felt below anyone.  My colleagues at the OII have helped guide me throughout and continue to provide me with the knowledge I currently hold about working and being in the department.  I also like the fact that you can learn every aspect of a business as an apprentice and gain an understanding of how each area works, as well as how it all fits together so the department can function so effectively.  I know that embarking on something new professionally such as an apprenticeship can feel rather daunting for some people, but I can personally say that at the OII I was welcomed with open arms and feel very valued by the staff and stakeholders.
OII: What sort of skills have you developed from your time as an OII apprentice?
Maisy: I have really grown in confidence since I've been at the OII and learnt many new skills including  Time Management, Communication, Problem Solving, Teamwork, Organisation and Flexibility and many more. I have also noticed a great change within myself since starting at the OII and have even had family and friends mention my growth as a person, as I've become more confident and professional. I feel that I can use these new skills to my advantage, enabling me to complete my work to my best standard and helping me identify areas to improve within myself and my work, which I will use throughout my career.
OII: Is there any aspect of your apprenticeship that you've found particularly difficult?
Maisy: I have not encountered an aspect of my apprenticeship that I have not enjoyed due to the department or the apprenticeship itself.  The biggest challenge for me, like so many other people, has been adapting to new ways of working due to the Covid-19 pandemic.  It took me a little while to adapt at the beginning of the pandemic, particularly as this is my first job since school, but I'm now used to working remotely and certainly don't miss the joys of the daily commute to Oxford!
OII: How has your apprenticeship role changed during the Covid-19 pandemic? How have you adapted and have you felt supported?
Maisy: When I first started at the OII, pre-pandemic, I was originally based at reception and a lot of my tasks involved general administration tasks.  I had also just started supporting HR and was still learning parts of the role, as well as supporting Finance with administration tasks.  My role began to differ slightly as I transitioned to working remotely, but I was able to adapt to this new way of working and continue to complete many of these tasks remotely now.  I don't feel that the pandemic and changing the way we've all had to work has restricted me from developing, as I have continued to support the areas I supported pre-pandemic and even began to help new areas within the department. I have been supported throughout, with frequent contact with my team via Microsoft Teams with regular calls and updates on the work I am carrying out as well as having my manager and colleagues check in on my wellbeing.
OII: Would you recommend becoming an apprentice?
Maisy: I would definitely recommend becoming an apprentice and have actually suggested starting apprenticeships as a career path to many people. I have also received lots of questions from family members and friends quizzing me on what it's like to be an apprentice and have been able to direct them to sources of information and answer their questions based on my own experience at the OII.
OII: What do you hope to do next in your career?
Maisy: I would ideally like to find a permanent role within the OII, as I have really enjoyed my time in the department. Failing that, I would love to be able to find another role within the University of Oxford, to progress and work my way up to a more senior role. I know that I can put the skills I've learned at the OII to great use and they will be of huge benefit wherever my career lands me.
The 14th annual National Apprenticeship Week takes place 8-14 March 2021.  Find out more about how the University of Oxford is supporting the campaign and hear from other apprentices across the wider University.