Author:

Stacy Blasiola


Posted:

23 January 2015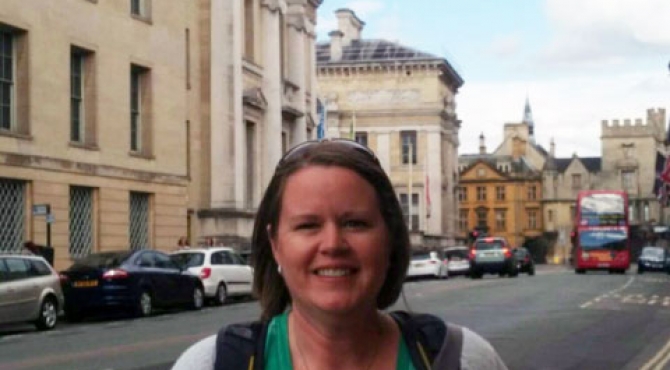 The time I had with my cohort at the OII SDP remains one of the most meaningful experiences I've had in my academic career. As an American, I'm struggling not to use the word "awesome" but seriously, it was awesome. I'll tell you a little bit about why, and I hope you'll forgive the overwhelming nostalgia. Dr Nash has created a two week program that lasts a lifetime. Looking back, I think there are two key aspects of the SDP that make it happen: The people and the place.
The SDP brings together doctoral students who are in an advanced state of their degrees. This means that all of the participants are going through similar challenges and struggles. In the months leading up to OII SDP 2014, I was done with courses and focused exclusively on prelim preparation. As OII SDP 2013 alum Iona Literat noted, this can be an overwhelmingly lonely time. Academic writing is creative, and yet it can be difficult to find inspiration given the solitary nature of the work. If you don't know it now, you'll find that having peers makes doing the work a lot more fun, and it also opens doors for collaboration. When you spend two weeks at the Oxford Internet Institute with a cohort of enthusiastic, young scholars, you emerge with some new friends and a powerful support group.
As part of the self-described "best OII SDP cohort ever", we continue to encourage each other. Since leaving the OII, I've worked with several members of my cohort on the Graduate Student Advisory Board for the journal Social Media + Society. We are planning panels for upcoming conferences, and a few us are co-authoring papers together. We visit each other when we travel, and we share rooms at conferences. And even now, as I write this, I'm chatting on Facebook about my dissertation with a fellow SDPer. This is what people mean when they say you make friendships that last.
In addition to the people, the place was what made SDP memorable for me. As an American, it's an experience to be somewhere that has history. And when you think of all the scholars who have been through Oxford, a sense of amazement takes over. Everywhere, the city reminds you of its great thinkers of centuries past, and being in the presence of it all makes for a special time.
But more than just scenery, there's something intangible about the environment that you can draw on. There's a creative current that flows through the buildings; it's in the smell of the old books, and etched on the walls. I wanted to tap into that feeling. Every day I made sure to spend some time alone. I got a library card for the Bodleian and spent hours in Duke Humfrey's (that's the library featured in Harry Potter and A Discovery of Witches) working on my dissertation proposal. I visited several of the museums. I rented a bike for the week exploring every back street I could find, and I'm sure I wasted a day in Blackwell's Books. Although these were moments I spent with myself, they were far from solitary. In fact, they were regenerative.
As you can probably tell, I remember my OII SDP experience fondly. It was an opportunity to make lifelong friends, meet future collaborators, experience the beautiful city of Oxford, and be reminded of the reason we're all doing this thing called academia.
---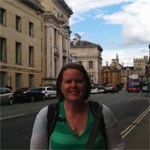 Stacy Blasiola is a doctoral candidate in the Department of Communication at the University of Illinois at Chicago. She is the editorial assistant for the Journal of Broadcasting and Electronic Media and Social Media + Society. She is working on her dissertation proposal, "Algorithms and the Misrepresentation of Self in Everyday Life." You can find her on Twitter @blasiola.