Author:
Posted:

3 September 2013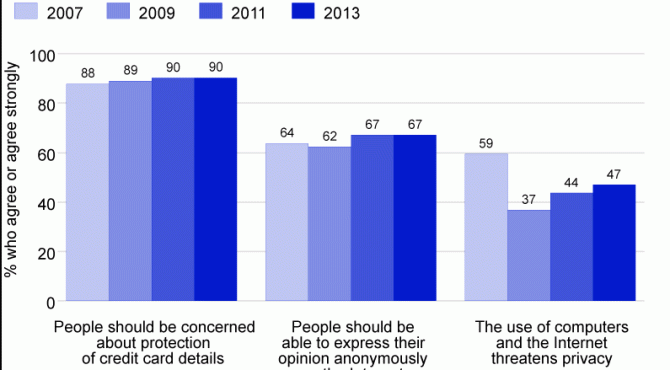 Journalistic coverage of privacy issues has mushroomed and there is a generally high level of concern about privacy. In 2013 almost half (47%) of Internet users said they were concerned that the use of computers and the Internet threatens privacy.
Despite this, about 70% of Internet users are comfortable giving out their email address and name online, and about 50% are comfortable giving out their postal address and date of birth. This might be surprising in light of media coverage of the threats of credit card theft and identity theft, but is not necessarily contradictory, as users generally trust Internet service providers and benefit from people finding them online. However, they do illustrate the complexity of privacy issues. It might be that the experiences of users have been generally positive, finding that e-commerce and online shopping, for example, work well and are reasonably low risk; many activities of value, such as shopping, would not be possible without the ability to trust a provider with certain information, such as your name and address.
---
Note: This post was originally published on the OII's Oxford Internet Surveys (OxIS) blog on . It might have been updated since then in its original location. The post gives the views of the author(s), and not necessarily the position of the Oxford Internet Institute.