Author:
Posted:

12 July 2014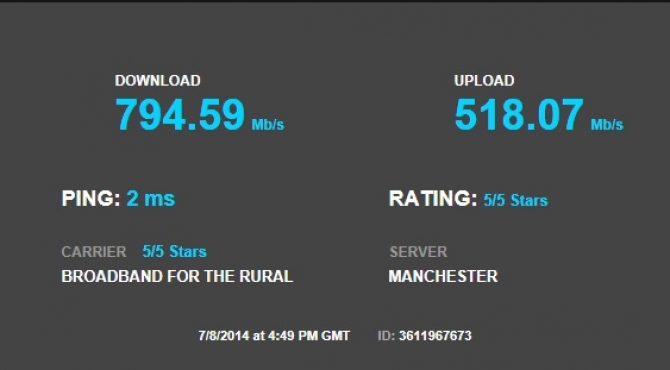 On the 9th and 10th of July we travelled up North to meet the people of B4RN, a community-owned fibre network in Lancashire providing future-proof full fibre connections to rural villages. The B4RN (Broadband for the Rural North) network is totally inclusive: every property – no matter how remote – will have an opportunity to get a Fibre To The Home (FTTH) connection. However, it does depend completely on active involvement from the community to implement the infrastructure and reduce the costs. A core group of incredibly enthusiastic volunteers has done a tremendous job in setting this up. They have combined (technical) knowledge, dedication, and hard graft to make B4RN a success. Their parish-by-parish approach started in 2011 with the plan to deliver fibre to 8 communities, and has since been rolled out to 23 parishes, with more queuing up to also be included.
Our interviews with members from the B4RN management team show that an initiative like theirs needs to overcome a multitude of obstacles. One of the major obstacles is of course the financing of such an initiative (e.g. equipment, dark fibre lease, third party insurance). But the physical landscape also comes with plenty of challenges such as rocks, bogs, bridges, roads, and train tracks, while bad weather can make access with equipment into muddy fields almost impossible. However, all the effort does pay off. The villages that have gone live are now enjoying upload speeds unimaginable to most of us – rural or urban!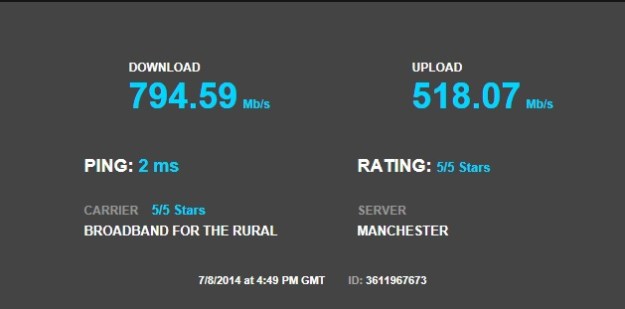 Current Internet speed at the Bridge House Tearooms in Wray
Village BYOD Evening
Besides interviewing experts we also visited the village of Dolphinholme where the fibre connection has just been introduced. Both the BBC and the Telegraph report how the villagers have taken matters into their own hands. Coincidently, an information evening was organised on the same day we were doing our fieldwork. The community had been invited to bring their own devices to the Village Hall to see what a superfast connection can do. Information was also given about how to set up VoIP phone service (using existing telephones), TV, and cameras for rural security applications. A second similar information meeting was scheduled for Saturday the 12th just before the Sheep Racing (we kid you not!)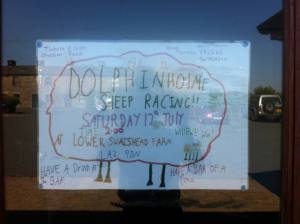 Poster on the door of Dolphinholme Village Hall
Show and Tell Day
When a community project is as successful as B4RN, it is only to be expected that other rural communities are keen to follow suit. To help them accomplish this, B4RN regularly organizes 'Show and Tell' workshops together with Emtelle to share knowledge and experience.
The meeting we attended attracted participants from all over the country eager to copy B4RN's best practice. Different speakers provided information about the financing of community-led projects, customer relations, product selection, and a hands-on product demonstration. 'Fibre blowing', 'splicing', 'fusion', 'ducts', and 'access chambers' are all part of the vocabulary of B4RN volunteers and these words had cropped up throughout our interviews. The product demonstration helped us to better understand the actual meaning of these terms.
To illustrate everything that had been discussed during the workshop, we were taken on a field trip into the wilds of Lancashire to see the active B4RN installation (approx. 300 km of fibre has been laid so far). This field visit emphasized the scale of the operation and the enormous accomplishment of all the volunteers.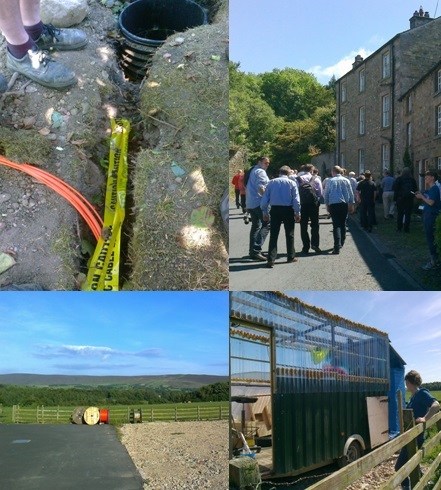 From top left – clockwise: 1. Fibre cables are covered with caution tape to stop anybody digging them up by mistake (e.g. while fencing or ploughing); 2. The workshop participants are shown B4RN installations; 3. The moveable maintenance 'shed' that allows people to work on the fibre distribution cabinets in all kinds of weather; and 4. Drums of duct waiting to be put in the ground.