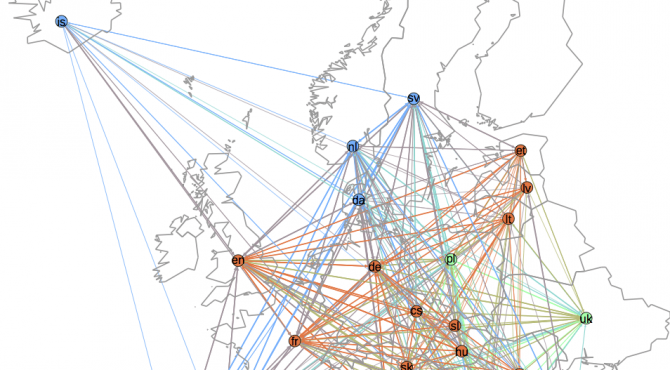 By Eve Ahearn and Taha Yasseri.
Reading niche political party Wikipedia pages, as one does when working on the Social Election Prediction project, one might wonder if there are any trends in which languages have articles about political parties of different countries. I did. Most major political parties in Europe have Wikipedia pages in dozens of languages, this makes sense, they are important, globally. But the same is not true for minority parties or party leaders. What does it mean that there are articles about this center-left Hungarian political alliance only in Czech, German, French, Flemish and Polish, in addition to Hungarian and English? Does the page of this ChristianUnion Dutch politician have coverage in Indonesian (in addition to German and English) because of the Netherlands' long history with Indonesia?
We downloaded the data to find out.
We downloaded the data for European countries with a singular national language (or overly dominant singular language), so there would be something of a one-to-one relationship between language and country. We then grouped the countries in communities based on the number of links between the political party Wikipedia pages to minimize the inter-category and maximize the intra-category links.
Would countries cluster by historic ties? By geographical proximity? By political sympathies? Or would they just cluster completely randomly?
The first two observations that came from the graph were:
             1. Political Wikipedia is influenced by geography
Just look at the clusters grouped together by color – these are "communities" of languages, or countries that are closely interlinked.
 2. Everyone is reading about Greece
All of the news about Syriza, the 2015 Greek election and the possibility of a Grexit has apparently made fellow Europeans very interested in reading about Greek political parties. Greek political party pages have one of the highest rates of coverage among European parties.
            Stay tuned. More observations from this dataset to come.