Author:

Tim Davies


Posted:

18 April 2015

Tags:
Devin Gaffney joined the OII in October 2011, having worked for a start-up company, 'Social Flow'. He took programming classes to earn money whilst studying for his undergraduate degree, and soon discovered his niche: it wasn't long before he was writing programs to extract data from Twitter. Now based in Portland, Oregon, Devin caught up with Tim Davies during a brief visit to Oxford.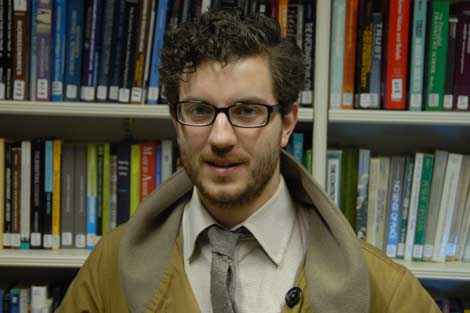 Tim: What did you do before you came to the OII?
Devin: I was studying the Internet! I was a programmer at 'SocialFlow' a start-up company, having just finished my undergraduate degree at Bennington College, a liberal arts college in Vermont. I was conducting data analysis for the company – trying to figure what the next steps for their projects should be, in terms of research and development.
Tim: And how did you first become interested in the Internet?
Devin: I became interested in the Internet through a concern for earning money! My degree from a liberal arts college was great fun but wasn't going to lead to a job. So during my course I started taking programming classes. I realised I really enjoyed it and then wrote a program to pull data off Twitter related to the Iranian election of 2009. This dataset (of 766,263 tweets) was the second largest dataset from the Iranian election. I went on to use this data for my undergraduate dissertation. I also became hooked on the AoIR mailing list and the Cambridge, MA Internet scene.
Tim: And why did you apply to the OII?
Devin: The OII is the only department where students can learn about the Internet in a way that won't kill your 20s! I was interning at Berkman before coming to the OII, but they didn't offer the classes that the OII do. I learnt about the OII through the AoIR mailing list and never looked back. When I arrived at the OII, I started to work with Mark Graham. I had grown to known him through email before coming to Oxford, due to our mutual interest in Twitter and Geo data. So my main area of interest was the geographies of the Internet. My dissertation at the OII explored the decay of contact over distance – whether the Internet provides an alternative media to communicate with people far living away.
Tim: Where has life taken you since the OII?
Devin: Portland Oregon, where I am now working as a developer, analysing Twitter communities, at a company called Little Bird, which was set up by the former lead writer of ReadWriteWeb, Marshall Kirkpatrick. I joined the company in September 2012, as the first of eight employees.
Tim: Did your time at the OII prepare you for this role?
Devin: Yes, it did, absolutely. I am suggesting ideas in my current role based on the connections I made and the things I learnt during my year at the OII.
Tim: What job-hunting advice would you give our students?
Devin: Join the AoIR list! It is an imperative for people wanting to pursue careers in the Internet. It allows you to be seen, you to see what is being published, what jobs are available and gives you an insight into the culture of the Internet research community. Also ask the contacts you make whilst at the OII.
Tim: And finally, where do you see yourself in 5 years?
Devin: In five years' time, I see myself studying for a PhD programme somewhere in the world. I want to straddle that place in between industry and academia, for example working for Microsoft Research whilst being a visiting Professor at a university. danah boyd's got a good thing going.