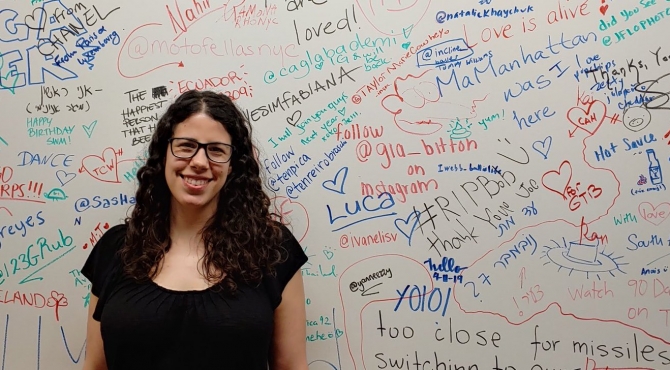 Amanda Summers-Plotno was a student in the MSc in Social Science of the Internet in 2011-2012. Since graduating she has worked at Deloitte Digital and Facebook.  
What first attracted you to the OII?
I was looking to deepen my studies in the media/comms/tech/politics space. I ended up deciding between the OII and LSE; someone familiar with both programmes told me that the OII had a closer community, and students received more attention from the faculty.
And what were you doing before?
I came to the OII right after graduating from Georgetown in 2011 with a Government degree.
And what have you been up to since leaving the OII?
I currently work in London as a User Researcher at Workplace by Facebook. Workplace is a dedicated and secure space for companies to connect, communicate and collaborate.
I use a variety of research methods to better understand the people who use (or might someday use) Workplace and translate findings into recommendations to improve our product. I work in cross-functional teams with product designers, data scientists, product managers, engineers, etc.
Before that, I was an experience design consultant at Deloitte Digital. I assisted UK government clients with digital transformations to improve road safety, immigration applications, and life in prison.
How did your time at the OII prepare you for this?
An essential part of my job as a user researcher is understanding the value of different research methods and picking the right ones to answer the questions at hand. My classes and thesis helped me understand a variety of methodologies, both in theory and in practice. I even remember supporting my first focus group when my thesis advisor brought me in to take notes at a session she was running.
What job-seeking advice do you have for our students?
You don't need to figure out what you want to do for the rest of your life while you're still studying. If you take a job and end up not liking it, that's okay! You'll have learned more about what makes you like or dislike a role or company culture. If you want to find something new, working for a large company can potentially make switching roles or teams easier.
And if you want to stay in the UK and need a visa to work, start your job search early. It's hard to find an employer who is willing to sponsor a Tier 2 work visa.
What do you miss most about Oxford?
The camaraderie of my cohort, spending time together having casual meals, attending balls, hanging out with the faculty at The Royal Oak on Friday nights, and joking about how we're Masters of the Internet. And wandering around the beautiful streets and meadows on foot, bike, or punt!
Where do you see yourself in five years?
Five years is both a long time and a short time, so it's hard to say! Maybe I'll still be in a similar "individual contributor" role as today, taking on bigger, more impactful projects. Or maybe I'll move into a management role. One thing I can confidently say is that I'm really enjoying working as part of an in-house UX team.