Author:
Posted:

11 May 2015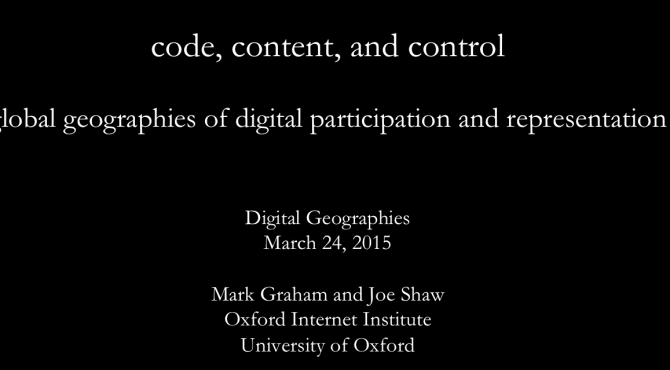 The Open University has just posted a webcast presentation of our paper due to be delivered at ICCG 2015 this July.
Titled "Code, Content, and Control: Global Geographies of Digital Participation and Representation", it deals with the role of Google in the reproduction of place-based inequalities. It does this thought an examination of how digital information mediators command power through the abstract representation of space. It then ends by asking what alternatives look like; and how we actually might go about getting rid of monopolists of spatial information (i.e. Google).
As part the Open University's Annual Doreen Massey event on digital geography, our talk provided the concept note for the section on "reformulating development geography" which also featured interventions from Sarah Elwood and Valentina Carraro from Grassroots Jerusalem. The entire event is available here and provides a great overview of some of the key contemporary debates in digital geography.

Mark and Joe
---
---
Note: This post was originally published on the OII's Connectivity, Inclusion, Inequality  blog on . It might have been updated since then in its original location. The post gives the views of the author(s), and not necessarily the position of the Oxford Internet Institute.