Date published:

18 July 2019

Publisher:

Oxford University Press

ISBN number:

9780198843504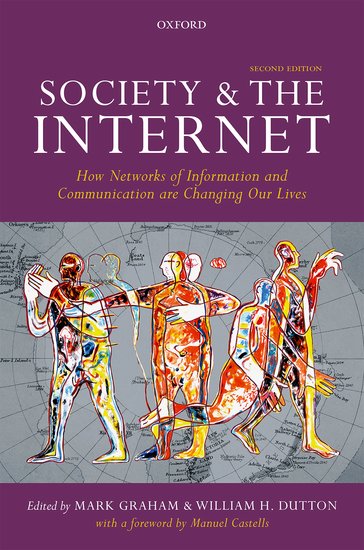 Graham, M. and Dutton, W. H. (2019) Society and the Internet: How Networks of Information and Communication are Changing Our Lives (Second Edition). Oxford: Oxford University Press. 480pp. 978-0-19-884350-4
How is society being reshaped by the continued diffusion and increasing centrality of the Internet in everyday life and work? Society and the Internet provides key readings for students, scholars, and those interested in understanding the interactions of the Internet and society. This multidisciplinary collection of theoretically and empirically anchored chapters addresses the big questions about one of the most significant technological transformations of this century, through a diversity of data, methods, theories, and approaches.
Drawing from a range of disciplinary perspectives, Internet research can address core questions about equality, voice, knowledge, participation, and power. By learning from the past and continuing to look toward the future, it can provide a better understanding of what the ever-changing configurations of technology and society mean, both for the everyday life of individuals and for the continued development of society at large.
This second edition presents new and original contributions examining the escalating concerns around social media, disinformation, big data, and privacy. Following a foreword by Manual Castells, the editors introduce some of the key issues in Internet Studies. The chapters then offer the latest research in five focused sections: The Internet in Everyday Life; Digital Rights and Human Rights; Networked Ideas, Politics, and Governance; Networked Businesses, Industries, and Economics; and Technological and Regulatory Histories and Futures. This book will be a valuable resource not only for students and researchers, but for anyone seeking a critical examination of the economic, social, and political factors shaping the Internet and its impact on society.
About the Editors
Mark Graham is Professor of Internet Geography at the Oxford Internet Institute (OII), University of Oxford. He is also a Faculty Fellow at the Alan Turing Institute, a Senior Research Fellow at Green Templeton College, a Research Affiliate in the University of Oxford's School of Geography and the Environment, and a Research Associate at the Centre for Information Technology and National Development at the University of Cape Town. His research spans topics between digital labour, the gig economy, internet geographies, and ICTs and development.
William H. Dutton is Emeritus Professor at the Annenberg School at the University of Southern California. He is also Senior Fellow at the Oxford Internet Institute (OII), an Oxford Martin Fellow supporting the Global Cyber Security Capacity Centre at the University of Oxford, and Visiting Professor in Media and Communication at the University of Leeds. He was founding director of the OII, and a Fellow of Balliol College, until appointment as the Quello Professor of Media and Information Policy in the College of Communication Arts and Sciences at MSU, where he served as Director of the James H. Quello Center until 2018.