Date published:

29 March 2013

Publisher:

Oxford University Press

ISBN number:

0199936978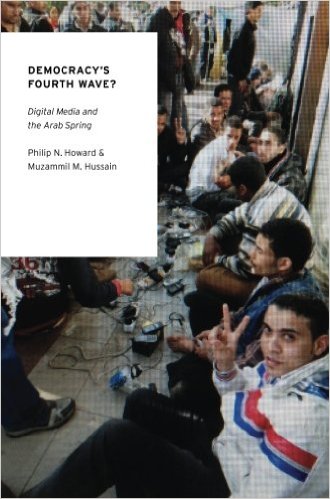 Philip N. Howard (2013), Democracy's Fourth Wave?: Digital Media and the Arab Spring. Oxford University Press, U.S.A. ISBN: 0199936978.
Did digital media really "cause" the Arab Spring, or is it an important factor of the story behind what might become democracy's fourth wave? An unlikely network of citizens used digital media to start a cascade of social protest that ultimately toppled four of the world's most entrenched dictators. Howard and Hussain find that the complex causal recipe includes several economic, political and cultural factors, but that digital media is consistently one of the most important sufficient and necessary conditions for explaining both the fragility of regimes and the success of social movements. This book looks at not only the unexpected evolution of events during the Arab Spring, but the deeper history of creative digital activism throughout the region.
About the author
Philip N. Howard is a professor of sociology, information and international affairs. He teaches at Oxford University and is a Fellow at the Tow Center for Digital Journalism at Columbia University. He writes about information politics and international affairs, and he is the author of eight books, including The Managed Citizen, the Digital Origins of Dictatorship and Democracy, and now Pax Technica: How the Internet of Things May Set Us Free or Lock Us Up. He has won multiple "best book" awards, and his research and commentary writing has been featured in the New York Times, Washington Post, and many international media outlets. Howard holds a Ph.D. from Northwestern University, where he studied how U.S. politicians use the internet to market their brand and manipulate public opinion.