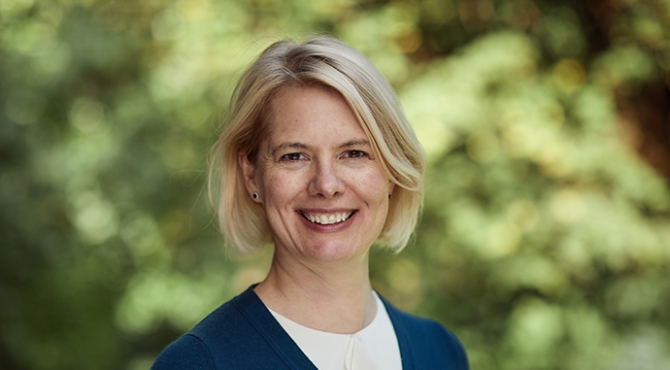 Professor Neff is a sociologist who studies innovation, the digital transformation of industries, and how new technologies impact work. She has studied digital change in the media, health care, and construction industries.
Professor Gina Neff
Professor of Technology & Society
Profile
Gina Neff is the Executive Director of the Minderoo Centre for Technology & Democracy at the University of Cambridge and Professor of Technology & Society at the University of Oxford. Her books include Venture Labor (MIT Press 2012), Self-Tracking (MIT Press 2016) and Human-Centered Data Science (MIT Press 2022).
Her research focuses on the effects of the rapid expansion of our digital information environment on workers and workplaces and in our everyday lives. Professor Neff holds a Ph.D. in sociology from Columbia University and advises international organisations including UNESCO, OECD and the Women's Forum for the Economy and Society. She chairs the International Scientific Committee of the UK's Trusted Autonomous Systems programme and is a member of the Strategic Advisory Network for the UK's Economic and Social Research Council.
Her academic research has won both engineering and social sciences awards. She also led the team that won the 2021 Webby for the best educational website on the Internet, for the A to Z of AI, which has reached over a million people in 17 different languages.
Areas of Interest for Doctoral Supervision
Professor Neff is no longer taking on doctoral students.
Research interests
Innovation, work, organisations, culture, communication, theory, qualitative methods, critical data studies, science and technology studies.
Position held at the OII
Professor of Technology & Society, October 2020 –
Director of DPhil programme, January 2017 – September 2019
Senior Research Fellow, July 2016 – October 2020
Associate Professor, July 2016 – October 2020
Current students
OII
Sociology
Elizabeth Baylis
Ben Ferschli
Primary Care Health
Former students
Research
Current projects
Participants: Professor Gina Neff, Blake DiCosola

How might the future of consumption change how we track and monitor ourselves? This project will test different strategies for helping people make healthier choices in online food shopping.

Participants: Professor Gina Neff, Felix Simon

This project will engage key stakeholders in the UK news industry in a public symposium to address urgent and pressing questions about news production in the age of AI.

Participants: Professor Gina Neff, Blake DiCosola, Jaimie Freeman

This study will assess how self-tracking data shapes social communities and the support people that receive from them, mapping the roles that online fitness communities play in maintaining psychological and social wellbeing and social connectedness.
Past projects
Integrity Statement
In the past five years work my work and the work of my students has been financially supported by UK taxpayers, UK Economic and Social Research Council, UK Engineering and Physical Sciences Research Council, British Academy, Leverhulme Trust, Google and Microsoft. As part of my science communication and policy outreach, I have served in an advisory capacity with paid talks, paid training or unpaid service on an advisory board or working group with the following organizations: AI Now, Configuring Light Project at LSE, Center for Critical Internet Inquiry at UCLA (C2I2), University of Copenhagen, the European Commission Joint Research Centre, Data & Society Research Institute, DigiMed, GMG Ventures, IAC, ING Bank, Minderoo Foundation, Northern Illinois University, Understanding Public Uses of Data and Dashboards Project at UC Irvine, Reuters Institute for the Study of Journalism, Royal Society, Saïd School of Business Executive Education, Structure Tone, University of Calgary Gairdner Lecture, VIRT-EU H2020 Project, The Women's Forum for Economy & Society,  Zinc VC.
I have provided consultancy services for ESRC, UNESCO, OECD and the IAB.
I serve as the chair of the scientific committee of UKRI's Trusted Autonomous Systems programme and on the board of the ESRC's Strategic Advisory Network. I chair the board of advisors for the social media start-up Bright and advise two Oxford student-based entrepreneurship groups, Oxford Entrepreneurs and the Christ Church Entrepreneurs Circle.