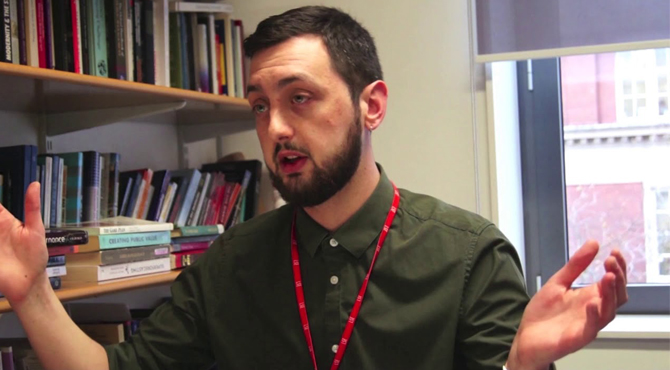 Jamie Woodcock is a sociologist of work, focusing on digital labour, the gig economy, and resistance. He is currently involved in the Fairwork Foundation, a project about online labour platforms.
Email:
jamie.woodcock@oii.ox.ac.uk
Profile
Research
Publications
News
Press
Jamie Woodcock is a researcher at the OII. He is a sociologist of work, focusing on digital labour, the gig economy, and resistance.
Jamie is currently involved in the Fairwork Foundation, a project about online labour platforms.
Jamie is the author of Working The Phones, a study of a call centre in the UK inspired by the workers' inquiry. His current research involves developing this method in co-research projects with Deliveroo drivers and other digital workers in the gig economy. He is on the editorial board of Historical Materialism.
He has previously worked as a postdoc on a research project about videogames, as well as another on the crowdsourcing of citizen science. Jamie completed his PhD in sociology at Goldsmiths, University of London and has held positions at Goldsmiths, University of Leeds, University of Manchester, Queen Mary, NYU London, Cass Business School, and LSE.
Research Interests:
Sociology of work, digital labour, resistance, worker organising, the gig economy, workers' inquiry.
Position held at the OII:
Researcher, January 2018 –
Current projects
Participants: Professor Mark Graham, Dr Jamie Woodcock

The Fairwork Foundation will certify online labour platforms, using leverage from workers, consumers, and platforms to improve the welfare and job quality of digital workers.

Participants: Prof D'Arcy Du Toit, Prof Sandra Fredman, Prof Mark Graham, Prof Richard Heeks, Prof Jean-Paul Van Belle, Dr Jamie Woodcock

This project aims to understand the contextual, contractual and practical nature of platform work, to identify its shortfall from decent work standards and to contribute to the development of its governance and regulation.
Journal articles
(2019) "?It?s like the gold rush?: the lives and careers of professional video game streamers on Twitch.tv", Information, Communication and Society. 22 (3) 336-351.
(2018) "Gamification: What it is, and how to fight it", Sociological Review. 66 (3) 542-558.
(2018) "Towards a fairer platform economy: introducing the Fairwork Foundation", Alternate Routes: A Journal of Social Critical Research. 29.
(2018) "Digital Labour in the University: Understanding the Transformations of Academic Work in the UK", tripleC : Communication, Capitalism & Critique. Open Access Journal for a Global Sustainable Information Society. 16 (1) 129-142.
(2017) "Crowdsourcing Citizen Science: Exploring the Tensions Between Paid Professionals and Users", Journal of Peer Production. (10).
(2017) "Fighting games and Go", Thesis Eleven. 138 (1) 26-45.
(2016) "The work of play: Marx and the video games industry in the United Kingdom", Journal of Gaming and Virtual Worlds. 8 (2) 131-143.
(2016) "Playing with science", Aslib Journal of Information Management. 68 (3) 306-325.
(2015) "Co-Creating Videogames", Journal of Cultural Economy. 8 (6) 738-740.
(2015) "Spectres of Marxism: A Comment on Mike Savage's Market Model of Class Difference", The Sociological Review. 63 (2) 512-523.
(2014) "Precarious workers in London: New forms of organisation and the city", City. 18 (6) 776-788.
(2014) "The workers' inquiry from Trotskyism to Operaismo: A political methodology for investigating the workplace", Ephemera : Theory and Politics in Organization. 14 (3) 493-513.
3 August 2018

Fairwork Foundation begins new project on the digital gig economy in South Africa
18 June 2018 Red Pepper

Menial digital labour is being outsourced to the four corners of the globe. Robbie Warin reports that exploitation flourishes whilst global companies file millions in profit.

14 May 2018 The Guardian

From microchip implants to wristband trackers and sensors that can detect fatigue and depression, new technology is enabling employers to watch staff in more and more intrusive ways. How worried should we be?