Dates:

Monday 18 October 2021, 15:30 - 17:00

Location:

Virtual Session

Register

Series: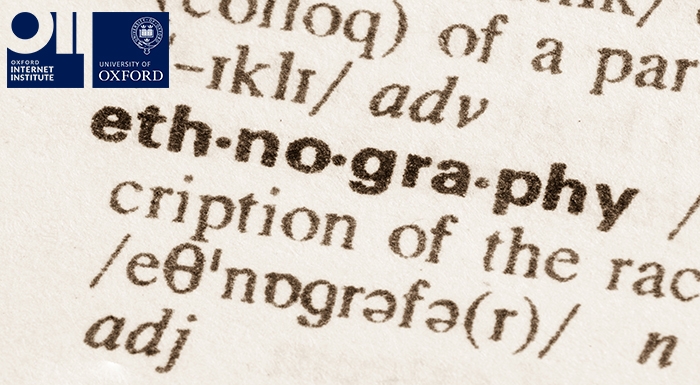 Speakers: David Zeitlyn, William Kelly, Rebecca Eynon
The Oxford Digital ethnography group (OxDEG) is a loose collaboration between the School of Anthropology and Museum Ethnography (SAME) and the Oxford Internet Institute (OII) that seeks to encourage qualitative, ethnographic approaches to a wide range of digital worlds and phenomena. We provide a home for researchers from across the university (no matter what their institutional base may be) who want to discuss how to undertake qualitative research online, how to analyse it and, anecdotally, how to defend it in the face of positivistic hostility.
To start the year's programme we will hold an informal Roundtable discussion to introduce the convenors and our plans for the year, before giving new researchers the opportunity to introduce themselves and their research interests.
When the seminar met in person (in times that seem almost as distant as those times before the world wide web had been invented) after the seminar we usually went for a drink. Now we have to invent other forms of sociality.
Note: Although OxDEG sessions will continue to be held online for the foreseeable future and researchers and research students from any institution are very welcome to attend, for this first session, active participation (self-introductions, etc.) may be limited to Oxford-based personnel, both for practical reasons, but also to facilitate the session's aim of introducing OxDEG to new Oxford-based research students and staff.
About the speakers
Professor David Zeitlyn

Professor of Social Anthropology, Oxford University



Dr William Kelly

Research Associate at the School of Anthropology and Museum Studies, Oxford University


This page was last modified on 8 October 2021