Author:

Oxford Internet Institute


Posted:

16 December 2009

Tags: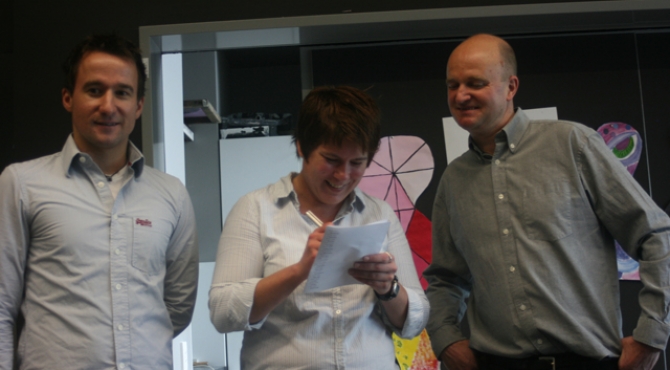 We are pleased to say that Marcus Foth and Jean Burgess (Creative Industries Faculty, Queensland University of Technology) will be involved in the 2010 OII Summer Doctoral Programme. They are familiar faces .. firstly as SDP2004 students, and more recently as hosts of the SDP2009 in Brisbane. We caught up with Marcus and Jean, and wondered first: why were they keen to host SDP2009?
MF: Our experience as student participants in the SDP2004 in Oxford was so useful with long-lasting networks formed, that we were keen to participate in another SDP. I managed to do that by helping out with the SDP2007 at Harvard, but we also wanted to reciprocate some of these benefits by hosting our very own SDP.
It was a lot of work and effort, but well worth it, since we tremendously enjoyed interacting with just under 30 brilliant students from all over the world for two weeks, and a stellar cohort of tutors and faculty. So it was a win/win situation.
Ed: The 2009 theme was 'creativity' .. how did that work?
JB: At a basic level, the theme 'Creativity, Innovation and the Internet' was designed to fit with the location – since the SDP was being hosted at the QUT Creative Industries Faculty. The idea was that 'creativity' and 'innovation' are hot-button issues, both intellectually and in policy terms, where issues like intellectual property and DRM, user agency, international development, online social networking, infrastructure and policy converge; and that it could cover interdisciplinarity and methodological innovation as well: we had tutors from law, sociology, media and communication, policy, the visual arts, and cultural studies.
Ed: You mentioned that you were both present at SDP2004 as students: How do you think the group has changed (if at all) since then?
MF: I remember that the SDP 2004 was structured into groups of students with a local tutor mentoring each throughout the program according to their expertise and interests, and that Jean and I were left in the 'Miscellaneous' group that didn't fit in nicely with pure Law, Political Economy, or Policy Studies.
Humanities, Arts, New Media, and ICT / Human-Computer Interaction are definitely playing a major part in the family of Internet Research, and so broadening the field by allowing for these cross-disciplinary exchanges makes it all the more interesting and impactful. The 2009 cohort was definitely very diverse, and we encouraged this cross-disciplinary dialogue.
Ed: Do any memories stand out from SDP2004?
MF: Vicki, Ralph, Bill, and the wonderful people at the OII that had to put up with us crazy folks. The sandwich lunches. The Harry Potter atmosphere sitting at the high table for breakfast. The oath as part of the admission to the Bodleian library. Our well-guided excursion to Stonehenge and Bath.
JB: As Marcus says, the Oxford experience itself is of course quite wonderful. Apart from that, what stands out is the sheer intellectual intensity of the experience, and the creation of friendships and working relationships that will (I hope) last a lifetime. I know a large number of our group are still in touch and/or have worked together.
Ed: And the best of SDP2009?
JB: The constant parade of high-quality tutors we had coming through each day, and above all the quality of the students' presentations and contributions to discussion. I can't wait to see what they all do next! It was also fascinating to observe the bottom-up emergence of a live backchannel used for the purposes of scholarship, social coordination and hilarity – collective creativity in action. And from an entirely selfish point of view, having the opportunity to experience the SDP twice – once as a student and once as a host!
Ed: One of the stated objectives of the SDP is that it is 'multidisciplinary' .. is there anything you have learnt / come across that you wouldn't have done otherwise, as a result of your involvement?
MF: I wouldn't know what single-disciplinary research is…
JB: Marcus is right to point out that much of the collaborative and team-based research activity here at QUT is 'always already' multi- or inter-disciplinary. Likewise, the SDP has always been multidisciplinary, and this is indeed one of its strongest points – and absolutely necessary given that almost any topic in Internet research you can name inevitably requires you to learn about new domains of knowledge that you might not have encountered before.
Ed: And so: the obvious question .. why should students apply?
MF: The SDP is a unique opportunity to interact with highly gifted students from diverse backgrounds being tutored by senior researchers in the field. It offers a chance to broaden one's disciplinary horizon, bounce ideas off each other, and form a continuing network of peers. The combination of disciplinary excellence and social embeddedness makes it a very prolific and fun environment with lasting memories.
JB: I think that sums it up!
Ed: Thank you for the chat! Hopefully see you in Oxford next summer …